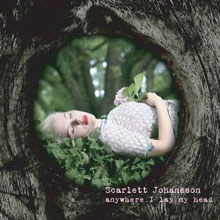 I must admit that, like many, I approached the concept of a Scarlett Johansson album of Tom Waits covers as one might approach a dollar bill dangling from a shark's mouth. I wanted to disregard it, pretend it didn't exist, scoff at anyone so foolish as to go near it expecting anything but an unhappy ending.
But in the secret recesses of my mind, I quietly hoped that, despite the odds, the album could actually be good and not tarnish the name of Mr. Waits—my favorite musical artist and one of the most important contributors to the great sloshing pool of noise we call music. Having finally listened to the album in all its uneven glory, I can say that the actual product is more complicated than either of my divergent expectations could have anticipated.
It's clear from the instrumental first track that ScarJo is not the one running this show. That credit belongs to David Sitek, the album's producer (better known as the guitarist for TV On The Radio and producer for the Yeah Yeah Yeahs). Sitek infuses the album with that sleepy, sexy, post-modern urban ambiance that fans of TVOTR know quite well. But while TVOTR singer Tunde Adebimpe can turn a detached vocal delivery into a sharpened weapon, Johansson's disembodied vocals sound more asleep-at-the-wheel than calm-and-cool, and it is this detachment that plagues the entire album, frequently dragging it through the mud just when it tries to soar.