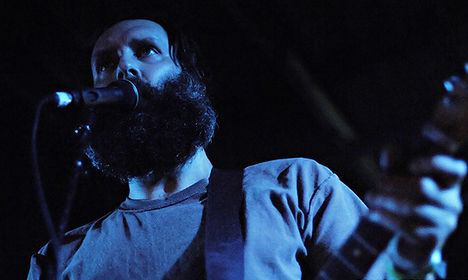 photo by Todd
Indie rock legends Built To Spill played Lancaster's Chameleon Club last night, and they proved their $20 worth to a big crowd of fans and curious yokels.
The 90-minute set included an Eno cover and a surprising number of old favorites (maybe due to their recent vinyl re-releases) like "Stab," "Car," and "Randy Described Eternity." The show went off with few hitches — even considering that tardiness forced a haphazard soundcheck before the first song.
The Chameleon is a weird place, with a Summer '07 calendar that lists American Idler Elliott Yamin and has-beens like Fuel. The "About Us" section of the venue's site boasts past gigs by "Nationally-Renowned artists" like Vanilla Ice and Live (they have some good acts listed, too, but it's alphabetical, so Creed comes first and The Ramones sit near the end).
About five times a year, the Chameleon gets an actual good show (seemingly out of the blue), like Ted Leo or Old Crow Medicine Show, or in this case, Built To Spill. In truth, though, the Chameleon hasn't been a viable venue for years. This is probably because Lancaster isn't a viable city; it's actually just a small-enough-to-be-quaint dump populated by ignorant, dead-end lowlifes.
In March, Ted Leo couldn't sell out the venue; he even quit the show early (partly) because the crowd blew. At the OCMS show, spectators could practically cartwheel up to the stage.
Interestingly, the five graying members of Built To Spill drew a big crowd, and a respectful one at that. I was worried that this gig in Lancaster was a sign that their heyday has passed, but the good turnout hinted otherwise. BTS may be on a plateau unlike their oft-compared contemporaries Modest Mouse, but the quality of their show was better than anything a paying customer could expect from Isaac Brock and Johnny Marr.
Doug Martsch is a hell of a guitar player, too, and if Built To Spill were a little more well-known, he'd be on more of those Rolling Stone and Spin top 100 lists. Not that it matters. It was great to see them in a small, intimate venue.