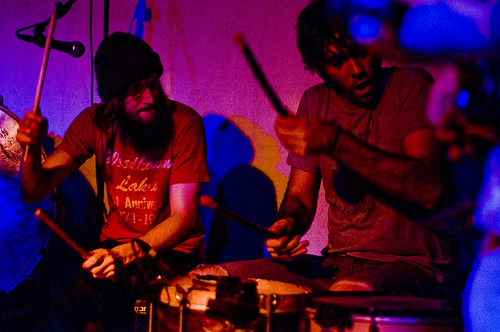 It takes a lot to work the crowd at the Casbah into a frenzy. Most nights, crowd members can't be bothered to unfold their arms—let alone dance—regardless of their affinity for the band that's playing. Whether you chalk it up to the laid back Southern California vibe, or to scenesters who care most about how apathetic they seem, San Diego's hipsters aren't exactly known for cutting loose. But maybe that's just because they had never seen The Builders and the Butchers before.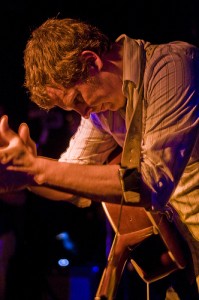 Haphazardly littered with a myriad of instruments—some of them apparently homemade—the stage looked like a tornado-ravaged pawn shop. But when the motley crew of Portland natives struck their first note, they unleashed a storm of their own upon the crowd. Ginger-haired singer—and daytime marine biologist—Ryan Sollee led his ragtag quintet through a series of thunderous songs that evoked folk, pop, and Gospel. His bellowing tenor gave each lyric the weight of scripture as he preached, wide-eyed, to his eager congregation. He was backed by a rhythm section that consisted of two scruffy guys with tambourines around their ankles beating on a disassembled drum kit that was scattered across the floor. At times, one of the two guys would abandon the percussion to play a melodica, mandolin, or whatever else was handy.
For a band with only one full-length release to their name—2007's strident, self-titled album—The Builders and the Butchers didn't play many songs from it. The infectious call and response of "Black Dresses" and the train track stomping of "The Coal Mine Fall" were two of the only exceptions to this rule. Instead, the band adhered largely to new material, including "Barcelona" and "When It Rains". Rain is a constant motif in their music—also referenced in "The Coal Mine Fall" and the unfortunately neglected "Bringin' Home The Rain", among others—which becomes all the more fitting when bearing witness to the band's manic and tempestuous live performance.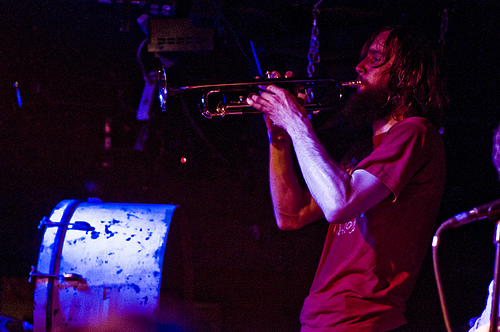 The crowd loved every minute of it, with dirted-up hipsters and hosebags united in their common desire to stomp their feet and shake their hips. For their final song, the band handed out a variety of makeshift percussive instruments to the crowd—everything from pot lids to castanets to a giant marching band drum—and even those without instruments clapped along, galvanized by their status as new members of the band's rhythm section.
It was a thrilling end to a whirlwind set, and afterward the crowd wandered about the venue in a sort of euphoric haze, shocked and awed by the intensity of what they'd just seen. It was exactly the feeling one searches for when going to a show, but so rarely finds. Let's hope The Builders and the Butchers make it back to the Casbah soon. If this performance is any indication, they'll be bringing the rain with them.