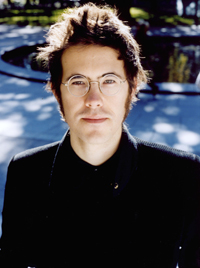 The great Elvis Perkins will be bringing his heartbreaking songs of staggering genius to San Diego on March 15th for an in-store set at M-Theory Music.
Surely you're wondering why someone who created an album as unrelentingly amazing as 2007's Ash Wednesday—probably the closest thing the world will ever get to a follow-up to In An Aeroplane Over The Sea—would be playing at the admittedly cool but nevertheless tiny Mission Hills record store.
We're not exactly sure either, but the answer almost certainly has something to do with Elvis Perkins In Dearland, the singer-songwriter's forthcoming sophomore album, set for release on March 10th. Those who pre-order it will be treated to an instant 128k stream of the entire album.
The brilliance is set to commence at 4pm, so shake off that hangover, grab a burrito at Santana's, and head on over. The show is one of Perkins' first stops on an expansive tour that will take him all over America and Europe before culminating at Bonnaroo. Dates and a stream of "Shampoo" from Elvis Perkins In Dearland after the jump.
Tour Dates:

March 09 Seattle Easy Street Records in-store performance (7:30pm)
March 09 Seattle Tractor Tavern *
March 11 San Francisco Café du Nord *
March 12 Los Angeles Troubadour *
March 15 San Diego M-Theory in-store performance (4pm)
March 16 Tucson Club Congress (w/ Delta Spirit)
March 19 Austin TX Auditorium Shores Stage (6pm)
March 19 Austin TX Central Presbyterian Church
March 25 New York Bowery Ballroom
April 02 Paris, FR La Maroquinerie
April 03 Amsterdam, NL Paradiso
April 04 Brussels BE AB Club
April 06 London UK ICA
April 07 Madrid ES Sala Sol
April 23 Northampton Iron Horse Music Hall
April 24 Providence Lupo's Heartbreak Hotel
April 25 Burlington VT Higher Ground
April 27 Il Motore Montreal QC
April 29 Toronto ONT Horseshoe Tavern
April 30 Chicago IL Schubas Tavern
May 01 Madison WI Memorial Union Terrace
May 02 Minneapolis MN 400 Bar
May 03 Davenport IA The Redstone Room
May 05 Lawrence KS Jackpot Music Hall
May 06 Omaha NE The Waiting Room
May 08 Denver CO Hi-Dive
May 09 Boulder CO B Side Lounge
May 11 Austin TX The Parish
May 12 Dallas TX Pontiac Garage at HOB
May 13 Houston TX Walters on Washington
May 14 Hattiesburg, MS Thirsty Hippo
May 15 Birmingham AL Bottletree
May 19 Arlington VA IOTA Club & Cafe
May 20 Brooklyn NY Bell House
June 11-14 Bonnaroo
* w/ Tim Eriksen Shape-Note Extravaganza
Stream: "Shampoo" from Elvis Perkins In Dearland
[audio:elvisperkins-shampoo.mp3]