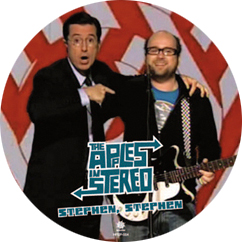 Stephen Colbert is a decorated (cultural) war hero and champion of truthiness, having won multiple Emmy Awards, coined a Word of the Year, and had a delicious flavor of Ben & Jerry's Ice Cream named after him. And now, the Apples in Stereo have done their part in honoring the praiseworthy Dr. Colbert (yes, it's "Dr." He's been awarded an honorary doctorate from Knox College).
The creators of "a mesmerizing series of heavenly, effects-drenched, pop milkshakes" have released the song "Stephen, Stephen" and, while the good citizens of Colbert Nation think this is a fine thing, they do seem a bit chagrined.
The possibility that the song could have been named after someone or something other than Stephen sadly reminds the nation that naming things after Mr. Colbert is not yet law and, as such, is not punishable by hilarious fraternity-style water-boarding or some other form of public shaming.
In these troubled times in which not everything is named after Stephen, the Colbert Nation poses the following rhetorical question: "Shouldn't more things be named after Stephen Colbert?" The nation then answers it: "Indubitably." We agree, and that's why we're renaming our website Owl and Colbert excited about the nation's new contest: Stephen's Fantasy Namesake Photo Challenge.
The Colbert Nation website has the SFNPC's official rules, but the gist is that you Photoshop Stephen into a picture of something that is normally none of his business, and thus make it his business. If the nation likes it, you may be one of fifteen winners to receive an Apples in Stereo picture disc bearing the visage of Stephen Colbert. There's also probably music on it!
Get your entries (that's right, you can enter as many times as you please!) in by April 1 to win your picture disc and to suckle on the teat of Stephen's subversively sweet, milky success.