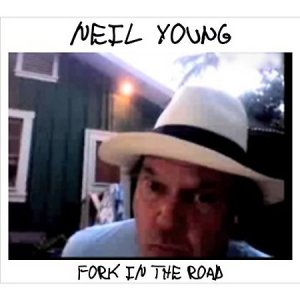 I hated it less than I thought I would: this 2.5-star Pop & Hiss review pretty much sums up my feelings about Fork in the Road, Neil Young's new album.
The album is part public service announcement, part condemnation of the status quo and part reflection of the risks and rewards of letting go of ideas when their time has passed. The outcome is more noteworthy for Young's stinging guitar work, passionate vocals and his powerhouse band's accompaniment than for finely crafted songs that add considerably to Young's estimable body of work.

To some extent, the lyrics simply establish a framework for the musical excursions, which are mostly Young's signature brand of grinding rock. Along the way, the music picks up bits of funk and blues boogie. The most poignant number is "Light a Candle," for which Young briefly unplugs to sing sweetly about the possibility of inner transformation.