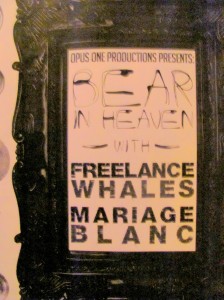 The Bear In Heaven show at Brillobox sold out far in advance.
Granted, Brillobox isn't exactly Madison Square Garden, but selling out the show was an undeniable feat for this Brooklyn band whose fan base has only slowly grown for the past few years.
Earning Pitchfork's coveted Best New Music tag didn't hurt, and Bear In Heaven certainly deserve the award. Their newest album, Beast Rest Forth Mouth, pulsates from song to song, and when it veers into ambient electronic territory, it can sound quite brooding. Going into the show, I felt a sense of great promise, and their brand of electro-psychedelic kraut rock is music to my ears.
At the Brillobox, I soon discovered the full breadth of their ability: Bear In Heaven—in addition to sounding great on record—can also create a sonic landscape that totally surrounds the show-goer.
The chatty audience met the opening acts with apparent indifference, and it was midnight before Bear In Heaven took the stage. Even during their set, a feeling of apprehension remained in the crowd. Everyone seemed to be dipping their toes in the musical waters, not quite sure whether they wanted to take the plunge.
Despite the anxious vibe, front man Jon Philpot and the remaining band members seemed genuinely thankful to be there. Unfortunately, the first few songs of the set were hobbled by the venue's poor sound. After each botched song, a member of the band would look at the sound guy in frustration, motioning up or down in an effort to get the levels right. Philpot then requested that the venue dim the incredibly bright house lights.
Once the proper mood had been set, Bear In Heaven caught their stride. I stood right in front throughout the show and was mesmerized by drummer Joe Stickney; there is a tribal quality to the way he plays, and it works well with the band's frequently minimalistic electronic loops. Philpot switched between vocals, guitar, and electronics while Adam Willis and Sadek Bazarra ably handled guitar, bass, and keyboard duties.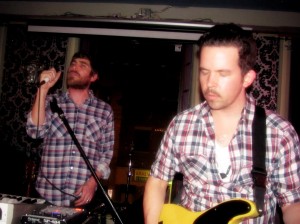 The fuzzed-out songs hypnotically built into an all-out wall of sound that rattled teeth and startled me with their sheer intensity. Although a friend of mine did not have the same experience, his disappointment was probably the result of spending most of the show at the bar. Perhaps we should chalk his complaints up to the sound system, which sounded uncharacteristically off the entire night.
Bear In Heaven played every song from Beast Rest Forth Mouth. They are definitely "mood" music—not for everyone—but given the right setting, it can be surprisingly accessible. This furthers my theory that the audience is just as important as the band. I came away satisfied with the experience, but the crowd's indifference—coupled with the audio problems—left me disappointed overall. Bear In Heaven may not have reached their full sonic potential yet, but they are definitely on the right track.
Download
Wholehearted Mess (MP3), from Bear In Heaven's Wholehearted Mess LP
Bear In Heaven tour dates
Jan 27 2010 – Mercury Lounge – New York, New York
Feb 26 2010 – The Space – Hamden, Connecticut
Mar 5 2010 – Johnny Brenda's – Philadelphia, Pennsylvania
Mar 6 2010 – Rock and Roll Hotel – Washington DC
Mar 7 2010 – Local 506 – Chapel Hill, North Carolina
Mar 8 2010 – Broadways – Asheville, North Carolina
Mar 9 2010 – The End – Nashville, Tennessee
Mar 10 2010 – The Pilot Light – Knoxville, Tennessee
Mar 11 2010 – The Earl – Atlanta, Georgia
Mar 13 2010 – Will's Pub – Orlando, Florida
Mar 14 2010 – The Engine Room – Tallahassee, Florida
Mar 15 2010 – Spanish Moon – Baton Rouge, Louisiana
Mar 16 2010 – Mongo's – Houston, Texas
Mar 17 2010 – SXSW – Austin, Texas
Mar 18 2010 – SXSW – Austin, Texas
Mar 19 2010 – SXSW – Austin, Texas
Mar 20 2010 – SXSW – Austin, Texas
Mar 22 2010 – Rhythm Room – Phoenix, Arizona
Mar 23 2010 – Casbah – San Diego, California
Mar 24 2010 – The Echo – Los Angeles, California
Mar 25 2010 – Bottom of the Hill – San Francisco, California
Mar 27 2010 – Berbati's Pan – Portland, Oregon
Mar 28 2010 – The Crocodile – Seattle, Washington
Mar 29 2010 – The Biltmore Cabaret – Vancouver, British Columbia
Mar 31 2010 – Kilby Court – Salt Lake City, Utah
Apr 1 2010 – Hi Dive – Denver, Colorado
Apr 2 2010 – Replay Lounge – Lawrence, Kansas
Apr 3 2010 – Turf Club – St Paul, Minnesota
Apr 4 2010 – Schubas – Chicago, Illinois
Apr 5 2010 – The Blind Pig – Ann Arbor, Michigan
Apr 6 2010 – El Mocambo – Toronto, Ontario
Apr 7 2010 – Il Motore – Montreal, Quebec
Apr 8 2010 – Middle East Downstairs – Cambridge, Massachusetts
Apr 9 2010 – Music Hall of Williamsburg – Brooklyn, New York
Apr 15 2010 – Razzmatazz 3 – Barcelona