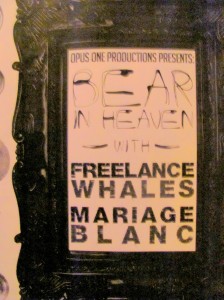 The Bear In Heaven show at Brillobox sold out far in advance.
Granted, Brillobox isn't exactly Madison Square Garden, but selling out the show was an undeniable feat for this Brooklyn band whose fan base has only slowly grown for the past few years.
Earning Pitchfork's coveted Best New Music tag didn't hurt, and Bear In Heaven certainly deserve the award. Their newest album, Beast Rest Forth Mouth, pulsates from song to song, and when it veers into ambient electronic territory, it can sound quite brooding. Going into the show, I felt a sense of great promise, and their brand of electro-psychedelic kraut rock is music to my ears.
At the Brillobox, I soon discovered the full breadth of their ability: Bear In Heaven—in addition to sounding great on record—can also create a sonic landscape that totally surrounds the show-goer. Continue reading →