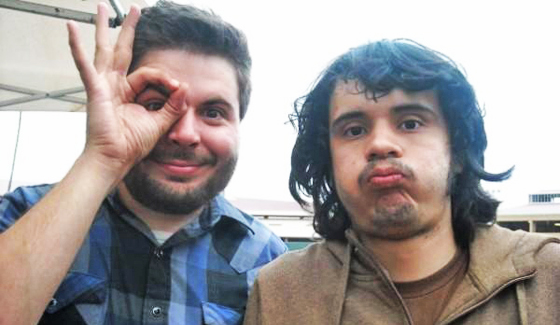 If listening to Illuminauts makes you feel like you're on drugs, that's because it's supposed to. Comprised of locals Santino Romeri and Nicky Castañeda, the electronic band weaves trip-hop beats and psychedelic samples into moody sonic tapestries designed to expand your mind.
Listening to Illuminauts can be a trippy experience, but until now it's only been a live one. That's set to change on April 2nd, when the duo releases its debut seven-inch on Single Screen Records. The record features two otherworldly tracks from the band: "Swine Flu" on the A-side, and "Acid Hands" on the B.
To celebrate, Illuminauts will be playing a special release show that night at the Whistle Stop. Joining in the festivities will be labelmates The Paddle Boat, whose jazzy folk-rock treads similarly extraterrestrial terrain. The Paddle Boat have also been covering some literal terrain lately; the trio just returned from a Southwestern tour that included a stop at a small, little-known music festival called South by Southwest.
The Illuminauts record is just one of several upcoming Single Screen releases. Debut seven-inches from provocatively named bands Nude Boy and Neon Dick are forthcoming, as are represses of The Vision of a Dying World's I Will Not Fear What I Don't Understand EP and Beaters' Fishage single. The latter band has just embarked on a cross-country tour with San Diego success story The Soft Pack.
As with all Friday shows at the charming hipster dive, admission to the Illuminauts' Whistle Stop release show is free.