You don't know who Shaw is, but that's just something you'll have to remedy.
On his mesmerizing debut EP, Pretending We're Not Animals, the San Francisco native sets tales of fauna against electronic, sterile backdrops. His vocals are robotic yet mournful, drifting like echoes across barren, frigid soundscapes before fading into the ether. It's seventeen minutes of the most stirring music you'll listen to all year, and you can buy it from his label, Swordfish Records.
In addition to his auspicious solo work, Shaw has joined a new band, the New York City-based The Future Self Envy. The group is finishing up work on its debut EP, Bangerdropper, set for release in June. After that, Shaw will turn his attention back to his solo work and release some more EPs. His Poetic Memory is below.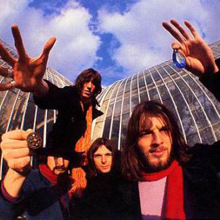 1. Pink Floyd: The band that really kicked off my interest in music was Pink Floyd. I guess that most people regard them as another classic rock band, recalling some of their hits and perhaps a distant memory of trying to sync up Dark Side of the Moon with The Wizard of Oz, but I took a pretty strong interest in the breadth of their discography, especially the stuff fronted by Roger Waters, and only later took interest in Piper At the Gates of Dawn and the Syd Barrett stuff.
I would argue that, aside from Les Paul and The Beatles, Pink Floyd contributed more to the commonwealth knowledge of sound production and engineering than any other band. The majority of their music is extremely well-executed and rarely overdone, on top of being beautifully written and lyrically verbose, but with such honesty that it is forgivable. Dark Side is sweet, The Wall is fucking epic, and Piper At the Gates of Dawn is the quintessential experimental rock record. But if you're looking for something you might not have heard before, check out Ummagumma (Live and Studio), Meddle, and Obscured By Clouds.
2. Modest Mouse: Modest Mouse was the band that inspired me to get a guitar. Specifically the songs "Dramamine" and "Teeth Like God's Shoeshine." Discovering Lonesome Crowded West coincided with my acquisition of the first generation iPod, and I was one of the very first people to blow my ears out, skateboarding around my suburban neighborhood listening to the weirdest music I knew existed. Honorable mention to Moss Icon and their album Lyburnum Wit's End Liberation, which I just recently found again.
Isaac Brock is a weird guy. I guess I identified with that. There is something really honest about Modest Mouse's lyrics—also really frantic and drunken and not always polished, but consistently raw and honest. I think this was the first band I'd heard who sounded sincere. I guess before this I was listening to shitty pop punk music, and here I had something that wasn't girls and parties. It was really abstract and crazy and soooo me. Get Lonesome Crowded West. If you're daring, get The Fruit That Ate Itself. The Moon and Antarctica is epic, too.
3. Bright Eyes: Bright Eyes inspired the folk out of me. For a long time I tried to get away from the fact that I really liked Conor Oberst's poetry. On-key singing or excellent guitar acrobatics be damned. There's not another guy in the whole industry who has put such raw and verbose honesty onto paper in a way that is touching, regardless of musical context. But really, his style is all a show.
Fevers and Mirrors and Lifted are both defining records for me, especially on the production end. I think I've listened to everything Mike Mogis has produced. If I was going to let anyone produce my next album, it would be him. I'm Wide Awake, It's Morning is where Oberst really starts to seem like a real folk musician, as opposed to a guy with an acoustic guitar, and although I find some of the political stuff a little pretentious now, I was soooooooooo into everything about that album when it came out.
4. Ratatat: When I first heard Ratatat I was kinda "eh." Their first album had really cool sounds but it fell on ears that were looking for meaning and words, at least when I was young. Classics is exactly what its name suggests though. Every song is great to have sex or do drugs to. Just when you think something is redundant they change to the next really cool thing. I've sampled them in places you'd never recognize, and I've "bitten their drums" more than once. The new album is cool, but Classics is the one you should be putting on at parties.
5. Metric: I'm really, unbelievably, and unabashedly into every album Metric has done. If I ever had the opportunity to work with two musicians it would be James Shaw and Emily Haines. People look at me like… why? Yeah, they're good, but why them above any other band? I guess I have an enormous respect for well-executed pop music filled with honesty and attention to detail. Over time, Metric's music has gotten much simpler in a good way, more focused, more part-oriented, and generally free of fluff. Every album has been enormously different, but they seem to be headed in the direction that the Yeah Yeah Yeahs have been moving away from since Fever To Tell. Live It Out and Fantasies are both pretty rocking good albums; Old World Underground, Where Are You Now? and Grow Up and Blow Away are both great sex, drug, and party records.
Listen: Shaw – "Pretending We're Not Animals"
[audio:shaw-pretending.mp3]