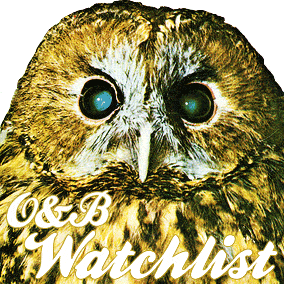 Once in a great while you hear music that just makes you feel cool.
Every time it comes on, you feel like you should be walking in slow motion, dark shades on, gliding into a room as all eyes fix on you. Maybe you're wearing an old, black, leather jacket and flicking a cigarette as smoke billows from your mouth.
There are only a handful of groups in recent memory that have given me that feeling: Autolux, Black Rebel Motorcycle Club, and Leonard Cohen, to name a few. And now, thanks to their new album, Eyelid Movies, Phantogram have joined those hallowed ranks.
The first song on Phantogram's Eyelid Movies is the electro-groovey "Mouthful of Diamonds," and it's one of the best opening tracks I have heard in years. Lead vocalist Sarah Barthel whispers "You've got a mouth full of diamonds and a pocket full of secrets," before the track breaks down into a electronic groove that throws you into instant, cool slow-mo.
Barthel and her bandmate Josh Carter have been making their so-called "street beat psyche pop" since 2007 when, after pursuing a Visual Arts degree, Barthel returned home to Saratoga Springs. Originally called Charlie Everywhere, the duo switched to the more fitting Phantogram in 2009 to avoid trademark issues. In October of that year, they signed with Barsuk Records, the label behind such indie darlings as Death Cab for Cutie and Mates of State.
I know it's early, but Eyelid Movies is already looking like one of the year's best releases. The songs pulse with absorbing, electronic undercurrents, while Barthel's angelic but ominous vocals bubble up from beneath Carter's danceable grooves. In short, it's a keeper.
Phantogram are currently on tour with The Antlers and will be making a stop in San Diego on April 28th at the Casbah. AOL is promoting the tour on their Tour Tracker, and they plan to publish Antlers and Phantogram tour diary entries throughout the run. Check out the full list of tour dates and Phantogram's new video for "Mouthful of Diamonds" below.
Downloads:
Phantogram: When I'm Small (MP3)
The Antlers: Two (MP3)
Phantogram tour dates
Apr 15 2010 – BIG ORBIT'S SOUNDLAB – Buffalo, New York
Apr 16 2010 – THE BASEMENT – Columbus, Ohio *
Apr 17 2010 – CANOPY CLUB – Urbana, Illinois *
Apr 18 2010 – HIGH NOON SALOON – Madison, Wisconsin *
Apr 20 2010 – VARSITY THEATRE – Minneapolis, Minnesota *
Apr 21 2010 – THE BLUE MOOSE – Iowa City, Iowa *
Apr 22 2010 – LINCOLN HALL – Chicago, Illinois *
Apr 23 2010 – BLIND PIG – Ann Arbor, Michigan *
Apr 24 2010 – ROCK ISLAND BREWERY – Rock Island, Illinois *
Apr 26 2010 – FOX THEATRE – Boulder, Colorado *
Apr 28 2010 – CASBAH – San Diego, California *
Apr 29 2010 – DETROIT BAR – Costa Mesa, California *
Apr 30 2010 – THE TROUBADOUR – Los Angeles, California *
May 1 2010 – INDEPENDENT – San Francisco, California *
May 3 2010 – DOUG FIR LOUNGE – Portland, Oregon *
May 4 2010 – THE BILTMORE CABARET – Vancouver, British Columbia *
May 5 2010 – NEUMO'S – Seattle, Washington *
May 11 2010 – URBAN LOUNGE – Salt Lake City, Utah
May 12 2010 – THE BELLY UP – Aspen Aspen, Co, Colorado
May 13 2010 – LARIMER LOUNGE – Denver, Colorado
May 14 2010 – RIOT ROOM – Kansas City, Missouri
May 18 2010 – MAXWELL'S – Hoboken, New Jersey
May 19 2010 – THE BOWERY BALLROOM – New York, New York
May 31 2010 – SASQUATCH! MUSIC FESTIVAL – George, Washington
Bonus! We're offering two pairs of tickets to see Phantogram with The Antlers at The Casbah on April 28. To enter the contest, just comment on this post and include your email address in the form (your email won't be visible to the public). The two lucky winners will be chosen at random on April 25.
* = w/ The Antlers