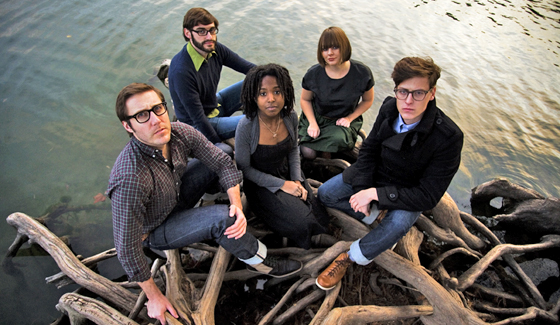 Back in January, we described the sound of Balmorhea (pronounced Bal-mor-ay) as "patient and sprawling, meditative and mysterious…it speaks to the world we live in (and beyond)."
Since then, we've heard their entire critically acclaimed new album, Constellations, so we're extra pleased to announce that they'll be stopping in San Diego on May 6.
And we're extra extra pleased to have received a list of Balmorhea's Top 5 Country/Western Records. I'd like to personally congratulate them for putting Townes Van Zandt in the number 1 spot.
5. Dwight Yoakam – This Time: He has such a peculiar and incredible voice. "A Thousand Miles From Nowhere" and "Ain't That Lonely Yet" are two of my favorite songs. I have a soft spot for over-produced 1990s popular Nashville country music. Don't ask why, because I don't really know. Makes me feel good. Probably has something to do with growing up in the 90s in a small town in Texas.
4. Robert Earl Keen Jr. – No. 2 Live Dinner: This recording kinda sounds terrible, but it captures his live shows exactly right. The acoustic guitars sound like metal and he sings off key a lot, and I'm pretty sure he's drunk, but that's what makes it so great. He has so many more records with amazing songs, but this is a good place to start.
3. Jerry Jeff Walker – 20th Century Masters: The Best of Jerry Jeff Walker: Kinda lame to put a best-of album on here, but I love this music so much. "L.A. Freeway" is one of my favorite songs.
2. Willie Nelson – Red Headed Stranger: The classic country record in my opinion. He started a new genre with this one. His voice sounds so good.
1. Townes Van Zandt – Live at the Old Quarter, Houston, Texas: Just listen to it. It's the best.
Runners up: Anything by Patsy Cline, George Strait, Bob Wills, or John Prine.
Bonus! Win two tickets to see Balmorhea at the Casbah on May 6. To enter this contest, just comment below and include your email address in the form (your email won't be visible to the public). The lucky winner will be chosen at random on Tuesday, May 4, so get your comment on!