Sparrow and the Workshop are the latest indie folk offering from across the pond. Comprised of Jill O'Sullivan (vocals/guitar), Gregor Donaldson (drums/vocals), and Nick Packer (bass), the Glasgow three-piece churn out soft, ambling ballads with ominous undertones. The lovely Ms. O'Sullivan was kind enough to provide us with a list of some of her favorite musically inspiring films:
This is a list of films I have seen throughout my life that have inspired me to go out and either a) buy the soundtrack, or b) buy music by nearly every artist on said soundtrack. I also think people might like to check these films out. This is by no means a list of the best movie soundtracks ever, because I haven't seen enough films to have anything resembling authority on the matter. Okay, so here is the list in no particular order…
To find out how O'Sullivan gets from Jim Jarmusch to Winnie Cooper in four moves — after a quick stop in Finland — check out her Poetic Memory below.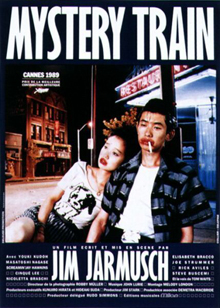 1. Mystery Train (dir. Jim Jarmusch) – Jarmusch seems to have amazing taste in music because all his films have ace soundtracks, and this one is no exception. The title kind of gives it away, it's a song written by Junior Parker and Sam Phillips and sung by Elvis Presley (among others, I'm guessing). The film takes place in Memphis, quite fittingly, and follows three different but converging stories set to some pretty wicked songs by the likes of Roy Orbison, Otis Redding and John Lurie. Also, Joe Strummer and Screamin' Jay Hawkins have acting parts in this film. Neat.
2. Singles (dir. Cameron Crowe) – This movie is soooooooooo 90's. Embarrassingly and awesomely 90's. It takes place in Seattle (no duh) and revolves around the lives of young, grungy people wearing plaid and Doc Martins. The soundtrack includes some kick-ass songs by Mudhoney, Pearl Jam and the Screaming Trees. I think I began my unrequited love affair with Eddie Vedder after hearing this soundtrack….yes, it's true….
3. Leningrad Cowboys Go America (dir. Aki Kaurismaki) – Before I say anything else, I have to thank my friends Meg and Sara and their obsession with Finnish cinema for turning me on to this movie. It's the most bizarre and awesome film I've ever seen, apart from Black Cat, White Cat, which is next on my list. This film is about a Finnish band (sporting hilarious quiffs and curly black shoes) who travel to the States in search of musical success. They have a shady manager and an agent who convinces them that rock and roll is the way to go. They play their own quirky renditions of Rrrrock and Rrrrooooll tunes and find themselves eventually playing a Mexican wedding after a bunch of crazy shit happens to them along the way.
4. Black Cat, White Cat (dir. Emir Kusturica) – This film is about a group of hilarious Roma gypsies and is accompanied by amazing music, often played by the characters themselves while the plot is unfolding. Basically, the main character is in debt and in trouble and has to marry a girl to pay off the gangster he's indebted to, but neither bride nor groom are privy to the idea and concoct really funny plans to get out of the marriage. There is some really good accordion playing in this film (and some super fast finger work on fiddle too).
5. The Wonder Years – Okay, this last one is a TV show but with a really good soundtrack. The music featured on each episode always ruled, as far as I can remember (I was a kid). Then again, I was always so distracted by Kevin and Winnie's romantic troubles that anything could have been playing in the background, but I can't help but feel that the roll-call of oldies classics really bolstered the dramatic impact of the show on my tiny little brain.