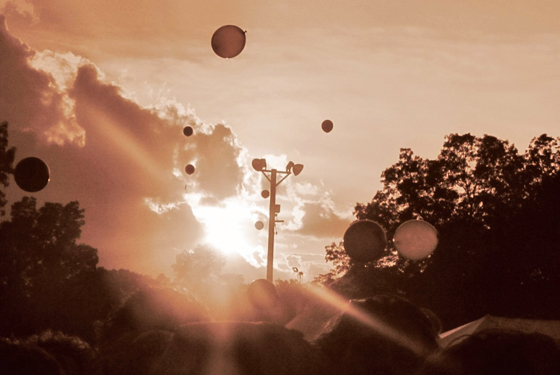 Let me paint a picture for you: it's at Friday 7:10 a.m., you're sleeping in your tent, face buried in an air mattress. The sun is screaming at you to wake up or suffocate. You went to bed three hours ago while hardcore techno music throbbed in the distance. You consumed about ten beers the day before — that's a low ballpark estimate — and you're already sweating profusely. You smell the way you feel.
This scenario was experienced countless times during Bonnaroo, all in the name of music. So we all woke up, washed our bodies the best we could, slathered on sunscreen, and humped to CenterRoo in the hopes of hearing enough good music to make us forget about the sweltering heat and our lack of hygiene.
A weekend at Bonnaroo can be a harrowing but magical experience. There are plenty of "damn, it's hot" moments, and there are also plenty of "damn, I can die happy now" moments. Having just survived my third Bonnaroo, it still amazes me how much people will endure to see the music they love.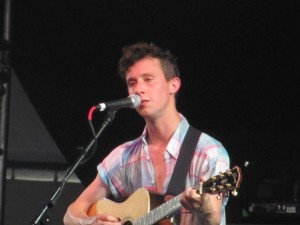 Let's back up a bit to Thursday, which served as a nice warm-up for things to come. The opening slot belonged to Fanfarlo, and these Swedes eased their way into a charming set that included most of the songs from their 2008 album, Reservoir. I was surprised at how good they sounded in such a big setting. They've really fine-tuned their sound over the last year or so, and they have managed to become a force in indie rock in a relatively short period of time. Their set ended with a rousing rendition of "Luna" and an appreciative roar from the crowd.
Speaking of forces in indie rock, next up were Local Natives, who took the stage to a packed tent that spilled out into the vast fields of Bonnaroo. After their scorching set, it's safe to say that these guys know how to put on a show. Their harmonies were some of the best I heard all weekend, and "Camera Talk" brought down the house.
As the sun began to set on the "unofficial" first day of Bonnaroo, Neon Indian did their best to unleash a chillwave over the surprisingly massive crowd. Unfortunately, their music didn't translate very well to a live setting. By the time the music hit my ears, it sounded pre-chewed and mushy. There were some groovy moments, but the chillwave aesthetic sounded too washed out. These types of bands are better heard through headphones or in a small club setting, where the interesting details can be parsed.
The XX had the honor of closing out the unusually indie rock-loaded day, and their set transformed the men and women in the crowd into gushing groupies. The first half of their set was a sight to behold. However, as they moved through their self-titled album, the crowd began to tire and lose interest. The long drive in, the heat, and the alcohol probably didn't do much to help people's attention spans.
Check out Part 2 of our Bonnaroo 2010 review here.
Listen
NPR Stream: Local Natives
NPR Stream: Neon Indian
NPR Stream: The XX