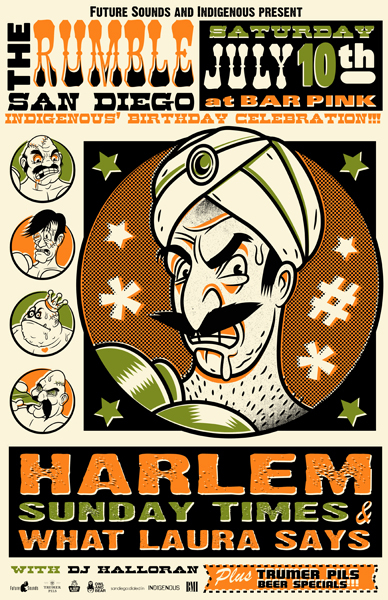 It seems like only yesterday that San Diegans gathered at Bar Pink for the June installment of the Rumble to watch Maren Parusel, Chasing Kings, and Drug Wars. The truth is, it's been a month, which means it's time once again to lace up your stampeding shoes and direct yourself toward the North Park watering hole.
Saturday's lineup starts strong and get better from there. Tempe-based three-piece What Laura Says will set a high bar with their bluesy, poppy Americana. Next up will be San Diego's Sunday Times. Not much is known about this enigmatic group, but the few videos on their MySpace page show promise. Texas trio Harlem will headline, fresh off the release of their Pitchfork-acclaimed sophomore album, Hippies. Described by the bipolar music mag as "bubblegum…flavored with booze and cigarettes," Harlem will undoubtedly put on a Rumble-worthy set. Finally, FM 94/9 music director/DJ Michael Halloran will keep your toes tapping between sets.
July 10 also commemorates the birthday of Rumble sponsors Indigenous, so it's an extra-special event. Instead of three-dollar Trumers and free Trumer tastings, this time there shall be free Trumers for all (while supplies last)!
The San Diego Rumble collective includes Future Sounds, Indigenous, San Diego:Dialed In, M-Theory, Bar Pink, artists-rights organization BMI, Trumer Pills, and — oh yeah — Owl and Bear. To make your intentions known, RSVP on this month's Facebook event page. See you there!
MP3: Harlem – Friendly Ghost
MP3: What Laura Says – I'd Dance With You
Photos from last month's Rumble: