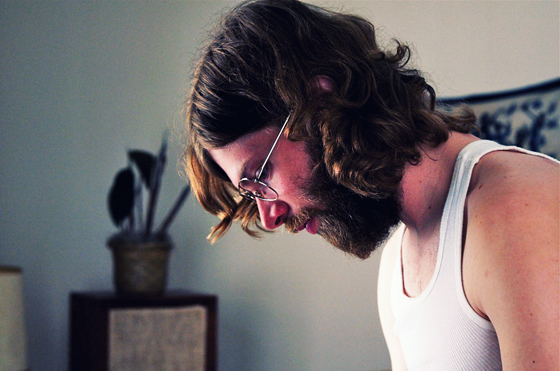 Bazile is a solo artist from Austin, TX who writes music that he calls "Space Folk."
Originally from Mississippi, Bazile grew up listening to film scores, and that appreciation has greatly contributed to his style of songwriting. And although his songs are often cinematic, Bazile truly shines when it's just his voice and guitar.
Bazile took two years to record his debut album, The Sojourn of Professor Narducci, and it was a long, deliberative process. The end result, however, is a captivating work that succeeds in balancing the music with his often melancholy lyrics. For a sample of the album, check out "Solder City" and the Sufjan Stevens-esque "Life of Particles" (MP3s).
People I'd Like to Have Over for Tea, by Bazile
A year ago I was watching A Fistful of Dollars and decided that I would like to have Clint Eastwood over for tea. My main interest in meeting him was that he is a creative, male celebrity who might have awesome advice. I then got a laugh out of the idea of myself awkwardly serving mediocre tea in a coffee mug to a gritty Western star (we would probably have to sit on the floor in my apartment). This thought developed into a rotating tea guest-list that consists of dudes who I consider role-models of creativitiy. Here are some of the themes and potential guests:
Lyricists: James Mercer, Neil Young, Travis Morrison: All of these guys have the ability to seamlessly match sing-song melodies with abstract lyrics that are unabashedly intellectual. Neil Young once brilliantly introduced a song with something to the effect of "This song is about some other stuff I was going through." That about sums it up. As far as I can tell, these guys are comfortable singing about anything they're able to articulate, which is most experiences. I get the feeling that many puns would be made if the four of us were to meet.
Guitarists: Bill Frisell, David Gilmour, John McLaughlin: Bill Frisell and David Gilmour both make me picture splashes of paint dripping down a wall. They each have guitar phrasing that is languid and precise. Playing as patiently as they do allows each note to develop a character of its own. John McLaughlin can do just about anything on a guitar and has the most sincere meditative/spiritual connection with his music. The only other musician who comes to mind in that regard is Stevie Wonder, but he can't play Carnatic or Flamenco. John McLaughlin's version of "Blue in Green" does justice to the title of the song. These guys all seem like kind, sonic painters.
Producers: Dr. Dre, Ry Cooder, Nigel Godrich: When I was 10 my sister and I listened to Doggystyle every day on the way to school. Somehow most rap music that I hear strikes me as dated, while most Dre productions continue to get me amped. Ry Cooder just has amazing taste. I have no idea what exactly he does to capture live performances so well, apart from assembling the A-team of [insert world music here]. I don't know much about Nigel Godrich, so I imagine him to be really down to earth and unassuming. These producers all do really different things, but I have a sneaking suspision that the sum of their parts is Danger Mouse. Only one way to find out.
Front Men: Perry Ferrell, Beck, Prince: No telling how this gathering would go. There might be a self-centered theatre kids vibe or a sincere appreciation of each other's work. Growing up, Beck gave me hope about the possibilities of life outside of Mississippi. Prince has the best stage skills I've ever seen. I want to adopt Perry Ferrell. After tea we would play basketball to test the veracity of Charlie Murphy's claims about Prince's skills on the court. Perry and I would comprise the skinny team while Beck and Prince would be the shorty team.
Directors: David O. Russell, Jim Jarmusch, Wes Anderson: Like the guitarists, these all seem like sensitive souls. David Russell was on Charlie Rose when I Heart Huckabees came out. He struck me as humble, funny and super-smart. Jim Jarmusch always gives me what I want in terms of patient, gradual development. Making an album in the style of The Royal Tenenbaums would be the pinnacle of sonic play for me. Meticulously building an aesthetic that is completely original yet grounded and accessible is the unattainable goal I seek. Too bad most people don't sit down and shut up for music the way they do for movies. Hence, my desire to make film music.
Actors: Daniel Day-Lewis, Val Kilmer, George Clooney: Daniel Day-Lewis demonstrated his superior eloquence at the Oscars in 2008, and his performances in Gangs of New York and There Will be Blood make Christian Bale's role in American Psycho as Patrick Bateman look like a nice guy. I bet Val Kilmer has a great sense of humor about himself. Tombstone is the movie that made me understand why westerns are so good. Also, I hear Val Kilmer and Bob Dylan are friends. What do they talk about? "Always carry a lightbulb when sleeping with scientists to steal formulas for cold fusion?" George Clooney is the Cary Grant of today. I mostly admire the efficiency and coolness with which he dismisses the media and makes them look like idiots. My hope is that all these actors would get a kick out of making fun of each other.