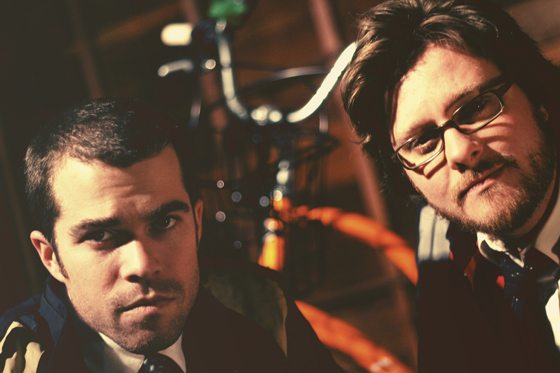 If you're looking for a new band to fall in love with this year, you'd be hard pressed to find a better one than The LeBarons.
The two-piece just released its debut album, Sounds From The Parallel Present, as a name-your-price download on its website. No matter what you choose to pay, the album is a steal. From the evocative opening track, "Black Adam," onward, Parallel Present draws you into a world of rich melodies and finely-tuned compositions. The songwriting is built upon a foundation of classic rock greats like David Bowie and Led Zeppelin, but the end result feels fresh and timeless.
The Los Angeles duo plans on touring Southern California in the fall. In the meantime, you can read band members Nathan Berqvist and Daniel J Frankeberger's Poetic Memory below.
Nathan Bergqvist – Guitarist/Bassist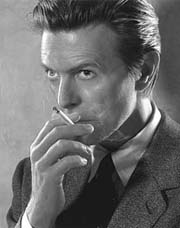 David Bowie – "Slip Away": There are so many Bowie songs that affect me, but "Slip Away" is one that never seems to relent. A more recent recording (from the 2002 album Heathen), the song is as timeless and enveloping as anything he has ever written. Its ability to inspire seems perpetual.
Aram Khachaturian – "Masquerade Waltz": "Masquerade Waltz" has a dark circus-y feel that brings back childhood feelings of wonder and grandiosity. Orchestrated half a century before Danny Elfman and others revived that musical feel, it remains a work like no other. I love this piece of music.
Grizzly Bear – "Little Brother": Grizzly Bear are absolutely brilliant; true innovators of atmosphere, with haunting and nostalgic compositions. I love music that doesn't just spark your imagination, but completely pulls you into another world.
Stan Getz and João Gilberto – "Corcovado": Composed by Antonio Carlos Jobim, I know of no piece of music that flows quite like it. It has a ridiculously ingenious progression of chords. That's about as much as I can break it down. Say "feel-good music" and this is what comes to mind. It is a musical representation of peace and paradise.
Daniel J Frankeberger – Vocalist
Stan Getz and João Gilberto – "Corcovado": Corvocado as performed by Getz/Gilberto really was an incredible piece of music. My family had the record and it was one of those things that could magically bring everyone together. And Stan Getz's saxophone is the reason I tried to learn sax. Though I still haven't got very good at it, I did learn music and how to read it through playing the sax, and it is awfully fun to honk on the thing now and again.
Tower of Power – East Bay Grease: In high school what I really wanted was to start a soul band. One of my favorite albums at the time was Tower of Power's East Bay Grease; one of their earlier records, it's rough around the edges and, well, greasy. I love the unassuming production of those early funk records, when it all sounds like one take played live.
Miscellaneous: See also: Buddy Miles' "Them Changes," Stevie Wonder's "Sir Duke," Chicago's "Make Me Smile" (or about any song off of any of those corresponding albums).