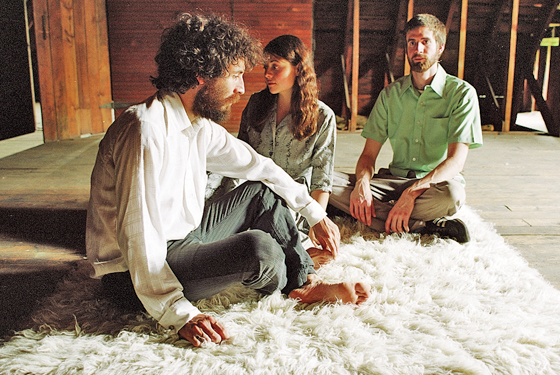 The backstory alone should tell you something about Breathe Owl Breathe's relationship with the unexpected: primaries Micah Middaugh and Andréa Moreno-Beals were born in Southwest Asia and South America, respectively, but they met in a Dairy Queen parking lot; the first time drummer Trevor Hobbs met Middaugh, they turned a party full of strangers into an improvised zombie movie.
The list goes on, and the trio's debut album, Magic Central (released September 28), follows in the same vein. Middaugh, whose vocals resemble a less serious Bill Callahan, sings about topics never before broached in indie music: melancholy stuntmen, safe swimming practices, and even a princess whose pen pal is a dragon. Yet despite the offbeat arcs, Middaugh's detailed and compelling stories possess a siren-like ability to draw you in.
Colombian beauty Moreno-Beals, for her part, adds an entirely different dimension to the music. Her cello, percussion, and vocal experimentation are an integral part of the band's sound, and she is a charming foil for Middaugh's narrator. Couple that with the sheer pleasure of navigating the twists and turns of Middaugh's mind, and you have a rare thing indeed.
In the live setting, Middaugh and Moreno-Beals add to the intrigue by donning scuba gear and wolf masks, among other accoutrements. It should come as no surprise that they achieve audience participation with seemingly little effort; the truth is, the second you start listening to Breathe Owl Breathe, you're already involved.
Downloads
MP3: Breathe Owl Breathe – Own Stunts
MP3: Breathe Owl Breathe – Swimming
Daytrotter Session: Breathe Owl Breathe – April 18, 2010
Breathe Owl Breathe tour dates
10/21 – Seattle, WA – Tractor Tavern w/ Little Wings
10/23 – Portland, OR – Woods w/ Little Wings
10/24 – Olympia, WA – The Northern w/ Little Wings
10/26 – San Francisco, CA – Bottom of the Hill w/ Little Wings
10/27 – Santa Barbara, CA – Muddy Waters Cafe w/ Little Wings
10/28 – Los Angeles, CA – Bootleg Theater w/ Little Wings
10/29 – Phoenix AZ – Trunk Space w/ Little Wings
10/30 – Tucson, AZ – Solar Culture w/ Little Wings
11/1 – Salt Lake City, UT – Kilby Court
11/2 – Denver, CO – Hi-Dive
11/4 – Norman, OK – Opolis
11/6 – Springfield, MO – Randy Bacon Studio & Gallery
11/9 – Milwaukee, WI – Cactus Club
11/10 – Madison, WI – High Noon Saloon
11/12 – Kalamazoo, MI – The Strutt
11/14 – Traverse City, MI – Higher Ground Trading Company
Photos: Breathe Owl Breathe at the Casbah – August 3, 2010