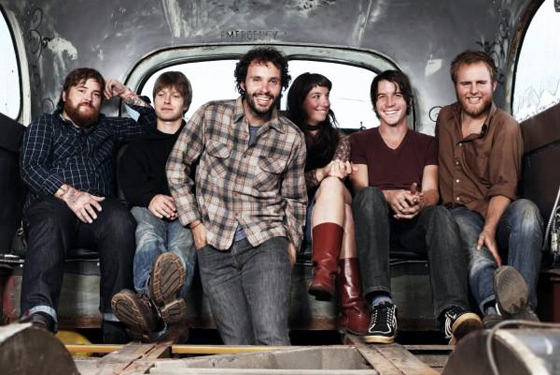 Those already familiar with Blind Pilot probably remember their inaugural 2008 tour, during which they traveled the entire West Coast — from Portland all the way to right here in San Diego — entirely on bicycles equipped with homemade trailers for all their gear.
A more cynical reviewer or music fan might write this off as a PR stunt designed to promote their first (and still only) album, 3 Rounds and a Sound, and not pay the band much further heed. This would be a mistake. Anybody in attendance that night, or for their follow-up visit in 2009, will tell you that Blind Pilot's music is also beautifully layered, at once melancholy and uplifting with thoughtful, heartfelt lyrics, and their shows should not be missed.
These are gifted performers, able to create a near studio-quality sound while still exuding the kind of showmanship and genuine enthusiasm that sets great live bands apart from the mediocre. For the uninitiated, be sure to check Blind Pilot's Daytrotter session for an excellent representation of their musical style and sound.
Word is that Blind Pilot finally have a new album in the works, a preview of which will hopefully be in Wednesday's set list. Until then, catch this live show and hope it's not the last trip these Portland, OR natives make to San Diego. Bicycles or otherwise.
Blind Pilot will be joined by Americana/folk artist Corey Chisel.