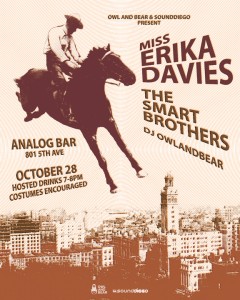 San Diego, have we got a treat for you. On October 28th, a day that will live on in both infamy and plain old famy, your friendly neighborhood Owl and Bear will curate its first-ever show/party thing. The hoedown will go down at Analog Bar, the recently-opened, vinyl-themed watering hole at 5th and F downtown.
The night will begin at 7pm with an hour of hosted drinks, free appetizers, and some sweet dee-jaying by the Owl and Bear writers. After that, folk duo The Smart Brothers will wow you with their incredible harmonies. If you've never seen The Smart Brothers in person, their performance at Analog will be a great way to acquaint yourself with one of San Diego's most talented bands.
After some more spinning from our ruggedly handsome writers, it's on to the main event, and boy will it be a doozy. Local siren Erika Davies will blow you away with her incredible voice and irrepressible charm. Davies has long been one of San Diego's brightest stars, and lately that star is on the rise. Her golden voice was recently featured in a Subaru commercial and she also just signed with local label Single Screen Records, who in the coming months will release her debut LP.
We're pleased as punch to bring you two of San Diego's absolute best acts, and none of it would be possible without SoundDiego, who were kind enough to let us hijack their monthly live event. We do a lot of talking about music on Owl and Bear, but we're thrilled at the prospect of finally delivering it directly to your grubby little ears. On October 28, come down to Analog Bar and celebrate San Diego with us.
RSVP on Facebook here.