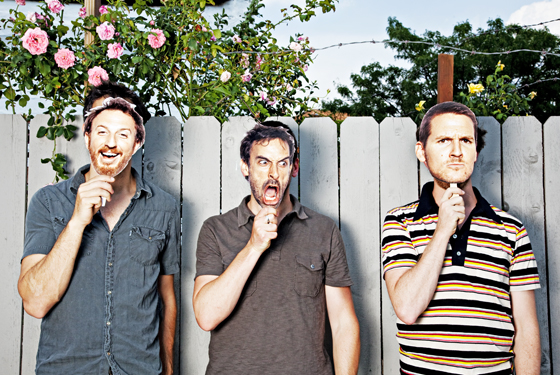 MP3: Guster – "Do You Love Me?"
Imagine a wine critic holding a glass of wine up to the light, studying the color and body before taking that first exciting sip, and then setting the glass down to think about what he's looked at. Then, instead of picking up the glass to take his first drink, he picks up his pen and paper to write his review. This doesn't happen in the wine world; it's ludicrous to think that a critic would merely look at a wine and then write an entire review based on that one look. I'd like to think that before they start writing about a piece of art, whatever the medium, most critics spend some time with it, give it room to breathe, and let it do what it's supposed to do.
I look at music much the same way, especially albums. People who care about what they're doing have deliberately put together a collection of songs. There are themes, melodies, and (sometimes) lyrics that, in the end, equal more than the sum of their parts. It's disheartening to think that some influential album reviews are written after only one pass, like my imaginary wine critic who skips the best part of the process.
With this in mind, I've decided to try a different way of reviewing music — a sort of deconstruction. After each listen, I jot down some notes. Eventually, I start to understand an album more clearly; as I become more familiar with the music, my feelings about it become more realized.
For my first go at this, I'd like to start with Easy Wonderful, Guster's newest album. The Massachusetts band's first three albums contained well crafted, catchy-as-hell indie folk, but it wasn't until Keep it Together that Guster really came into their own as a multi-instrumental, envelope-pushing pop band, much the same way the Flaming Lips did with their fantastic 9th album, The Soft Bulletin. And like The Soft Bulletin, Guster's Keep it Together had a joyful clarity. Some songs conjured up ethereal images of other worlds; others were direct and sweet, about love and friendship. If Keep it Together is where I fell in love with Guster, I'm hoping that Easy Wonderful keeps the love fresh.
Review: Guster – Easy Wonderful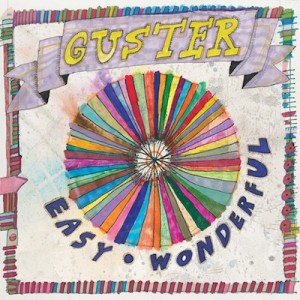 Listen #1: Damn, it feels good to hear new Guster material. I can already tell I'll like this more than their last album, but it makes me wonder if they'll ever make another album like Keep it Together. The third track, "On the Ocean," is already killing me. With a few more listens, I wouldn't be surprised if it became one of my favorite Guster songs. It would be cool if the song were a nod to Toad the Wet Sprocket, my favorite band ever and, I suspect, one of Guster's. This was a good first listen; there's going to be a lot here for me to like.
Listen #2: "There is love/there is peace in this world" is a lyric from Easy Wonderful's sixth track, "Bad Bad World." The lyric has been playing in my head all day and put me in a really nice mood. It's becoming a mantra for me. So far, I'm really happy with this album overall, but I feel like I'm missing something. The band is pushing a clearer sound — maybe a bit too far. Also, it seems like they've completely departed from having both guys singing on the songs, like they did on the previous two albums. That's too bad. Some of my favorite tracks from their previous albums had shared vocals.
Listens #3: "On the Ocean" might be the best thing Guster has ever recorded. It's an epic sort of song; it's hopeful, heartbreaking, and weirdly psychedelic, with an amazing classical piano part about midway through, followed by electronically modified vocals singing "nuhma nuhma nahh nahh nahh nahh." That looks weird in print (and it is), but it makes for some compelling song composition, reminiscent of Built to Spill's dueling guitar solos on "Carry the Zero." I'm in love with this song, and the rest of the album is coming along nicely. My issue with the sterile sound isn't so bad anymore; in fact, I'm starting to come around to the crystal clarity. I am, however, still missing the shared vocals. There is also a lot of biblical imagery here, even for Guster. But, like always, they manage to keep it from seeming pushy or even, well, religious. Just seems like a different way to tell stories.
Listen #4: There are some huge songs on Easy Wonderful. I can't help but get the feeling that some of the bigger songs — like "This Could All Be Yours" and "Do You Love Me" — are really just anthems for countries that don't exist yet. I also get the feeling with this album, more than their previous work, that Guster are trying to create a beautiful and intricately landscaped world for their listeners to inhabit. There are quiet meditations here that sweetly revel in melancholy, and there are songs that bring to mind darker times. It speaks to me on a direct level; I love being on the same sort of wavelength with the music I'm listening to.
Listens #5: On "Architects and Engineers," the first track of this album, Guster sing about looking out a window and wishing for things they can't change. They equate it to a sad old man with his photographs, which is a depressing thought. But then, they go on to say that we have architects and engineers building monuments — tributes to the things we hope for. That's how I see this album: as a monument to the band's vision of America. It's a place I'd love to see more of, and a place I'm so glad they've created with Easy Wonderful. Another ten listens or so, and this might become my new favorite Guster album.
Guster tour dates
10/27 – Portland, ME – State Theatre
10/28 – Burlington, VT – Flynn Center
10/29 – New York, NY – Beacon Theatre
10/30 – Providence, RI – Lupo's Heartbreak Hotel
1/14 – Denver, CO – Ogden Theatre
1/15 – Salt Lake City, UT – In The Venue
1/16 – Boise Idaho – Knitting Factory
1/18 – Seattle, WA – The Moore Theatre
1/19 – Portland, OR – Crystal Ballroom
1/21 – San Francisco, CA – The Fillmore
1/22 – Los Angeles, CA – The Music Box
1/23 – San Diego, CA – House of Blues
1/24 – Tucson, AZ – Rialto Theatre
1/27 – Des Moines, IA – Hoyt Sherman Theatre
1/28 – Minneapolis, MN – State Theatre
2/4 – Atlanta, GA – The Tabernacle
2/5 – Lake Buena Vista, FL – House of Blues