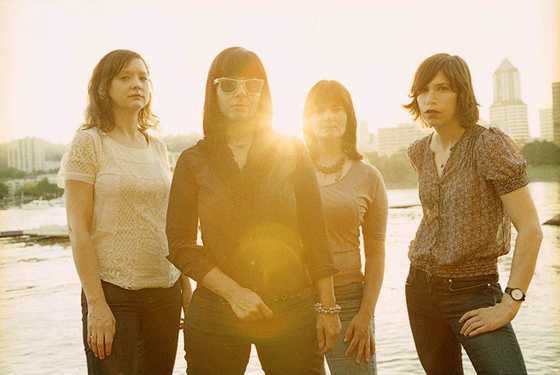 Since Sleater-Kinney's breakup in 2006, fans of the trio have held out hope for a reunion. The Olympia, Washington band dissolved at the height of its creative powers, having just released its seventh album, the classic rock-influenced The Woods.
The group had originally emerged out of Olympia's mid-90s riot grrl scene, but quickly differentiated itself through its use of sharp guitar hooks, distinctive harmonies, and politically savvy lyrics. By the time of their breakup, Sleater-Kinney were more than just critical darlings — they were fiercely cherished by fans in a way that few bands come close to achieving. Now, at long last, those fans will be treated to a Sleater-Kinney reunion — well, sort of.
In September, guitarist Carrie Brownstein and drummer Janet Weiss announced that they've formed a new band called Wild Flag. It might not be a full-fledged Sleater-Kinney reunion but, as the song goes, two out of three ain't bad. The supergroup is also comprised of Mary Timony from Helium and Rebecca Cole from The Minders.
As of now, little is known about Wild Flag. They haven't released any recordings yet, and their MySpace page contains not so much as a demo to hint at their sound. The only descriptions the page provides are the cryptic "What is the sound of an avalanche taking out a dolphin? What do get when you cross a hamburger with a hot dog? The answer is: WILD FLAG," and the less-than-helpful, "Apt adjectives for describing the band's music: wild. Also: flaggy."
The mystery will be solved on November 20th, when the four-piece plays the Casbah. The San Diego show is part of Wild Flag's inaugural tour, and we're fortunate to be privy to one of their first performances. With a pedigree like this, it's guaranteed to be a wild time. And also flaggy.
Wild Flag tour dates
Nov 12 2010 The High Dive Seattle, WA
Nov 13 2010 Doug Fir Portland, OR
Nov 16 2010 Off Center Stage
Nov 17 2010 The Hub Sacramento, ca
Nov 18 2010 Bottom Of The Hill San Francisco, CA
Nov 19 2010 Spaceland Los Angeles, CA Find Tickets
Nov 20 2010 Casbah San Diego, CA
Nov 21 2010 Aladdin Jr. Pomona, CA
Nov 22 2010 Hemlock Tavern San Francisco, California
Mar 9 2011 Johnny Brenda's Philadelphia, PA
Mar 10 2011 The Black Cat DC, Washington
Mar 11 2011 Local 506 Chapel Hill, NC
Mar 12 2011 The Earl Atlanta, GA