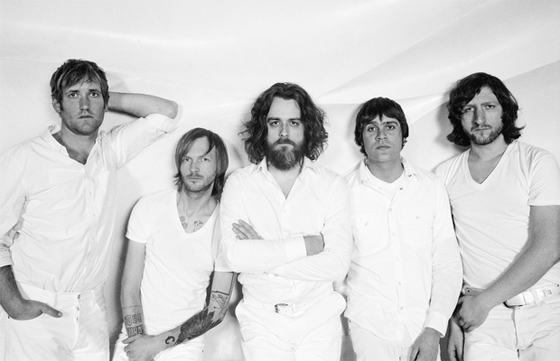 MP3: Minus the Bear – "My Time"
Going in, I had mixed feelings about seeing Minus The Bear perform at Philadelphia's Electric Factory — one of the city's largest venues — on Friday.
When they formed in 2001, the Seattle indie rockers were nothing less than a super-group in my mind, since I'd been such a huge fan of the members' previous acts: Sharks Keep Moving, Botch, and Kill Sadie. And when their first EP was released, Minus the Bear delivered — both on record and onstage. I have to admit that I've had my ups and downs with their recorded output following the first album, but they've lost nothing on the live front.
I must have seen Minus The Bear play at least 5 times between the release of 2001's This is What I Know About Being Gigantic and 2004's They Make Beer Commercials Like This — in venues ranging from church basements to small bars, to an opening slot on Braid's 2004 reunion tour. They stole the show every single time, and Friday they were not only headlining the 3,000-capacity Electric Factory, but also filming the performance for a music video and DVD.
To put it into perspective: I'm not invoking the old "I liked 'em before they were big" complaint; I'm far too old and jaded to espouse any sense of "ownership" of a band that I supported in the early days. Quite simply, the band moved in a direction that I didn't really follow, and now it's mind-boggling to see how popular they've become.
But when Minus The Bear took the stage and fired into a song from their new album, Omni, as the crowd roared, I couldn't help myself from smiling. I knew that so many people in the audience were experiencing the same elation I'd had in those early days, and I was feeling it too.
When it comes down to it, whatever I might think about, say, Planet of Ice compared to Highly Refined Pirates is irrelevant in the face of the fact that Minus the Bear just make damn good music, and present it with passion. The band seared through a set that culled numbers from nearly their entire catalog. It's almost impossible to describe what an amazing guitarist Dave Knudson is — and his stage has always been the lifeblood of their performances. His finger-tapping guitar acrobatics never approach the territory of Steven Vai wankery, always interlocking creatively with vocalist Jake Snider's more subdued playing.
Sure, the guys in Minus The Bear have longer hair now. And they pretty much dropped the tongue-in-cheek song titles (like "Lemurs, Man, Lemurs" or "Booyah Achieved") that characterized their early releases. And their sound has matured — more akin to classic rock than the angular indie-pop they started out as. They have roadies and guitar techs and a lightshow. And yes, they're playing bigger venues to bigger crowds, and selling more records. And you know what? They deserve every bit of it.
Minus the Bear tour dates
12/9 – House of Blues – Cleveland, OH
12/10 – Clutch Cargos – Pontiac, MI
12/11 – Canopy Club – Urbana, IL
12/12 – The Blue Note – Columbia, MO
12/13 – Blue Moose – Iowa City, IA
12/14 – Bluebird – Bloomington, IN
12/16 – Vic Theatre – Chicago, IL
12/17 – The Rave – Milwaukee, WI