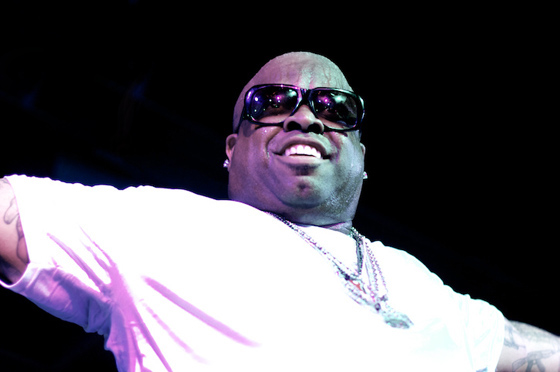 If there is one indisputable fact about last night's Cee-Lo Green show, it's that everyone was happy to be there.
Be it openers The Nervous Wreckords, who were thrilled to play a packed house, or Vokab Kompany, who earnestly believed that their performance might attract crossover fans, or Cee-Lo himself, who may have confessed to being high on ecstasy ("My nipples are half-erect!"), the performers were all elated in their own ways. The audience, too, didn't seem to think there was a better place on Earth to be, despite the crazy melting pot of spastic dancers, drunk-as-fuck frat boys, tarted-up Gaslamp girls, and a handful of out-of-place indie fans.
The audience expressed an admirable interest in The Nervous Wreckords, whose set never really gelled with the acts that followed. And the crowd was receptive to the rap-rocking Vokab Kompany, whose Insane Clown Posse aesthetic felt more like a history of bad whiteboy fashions than anything else. But what do you expect from a band that derives its naming conventions from Krusty the Klown?
The headlining Cee-Lo took to the stage like the star he is, ten-pound pinkie ring glittering as he sipped from a bottle of Patron. (If the tequila company needs a new spokesman, Cee-Lo is their man — he drank that shit like water.) Everyone stood and stared with dumb grins as Cee-Lo belted out six songs, letting the backing track and crowd do most of the heavy lifting. When he did sing, though, his talent was undeniable. It's amazing how quickly Cee-Lo, who essentially did a karaoke set of his own music, made the audience forget the sacrifices (Vokab Kompany, I'm looking at you) they made to see him.
After Cee-Lo's 25-minute performance — which felt like a nanosecond after the interminable previous set — the confused crowd let out a little "Huh?" For a moment, everyone seemed to realize that they'd paid thirty some odd bucks to see two sets by bands they'd never heard of, and a set by Cee-Lo that lasted about as long as it takes to walk to the Fluxx bar.
But then the predictable dance music kicked back in and all was right with the world.
Photos: Cee-Lo Green – February 10, 2011

Photos: The Nervous Wreckords – February 10, 2011