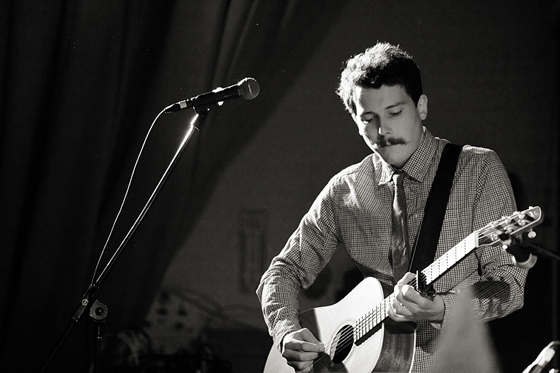 Despite being packed into an 80-degree auditorium (and the $10 all-you-can-drink boot-shaped beer glasses), the crowd at the San Diego Woman's Club on Saturday night was breathlessly quiet.
Joel P. West has a way of making every show he plays feel special. But this one with The Tree Ring had the added bonus of an audience full of fans that – via donations to Kickstarter – actually played an integral part in the production of his new album, The Generous Shadows.
As The Tree Ring played, handheld flashlight beams circled the ceiling, and chills crept up my spine. "Haida" into "Wore It Deep" was the emotional highlight, and the band closed the show out with Joel's solo tune "28th and NE Davis," which had much of the audience standing up, stomping their feet, and calling out for more.
Photos: The Tree Ring – February 12, 2011