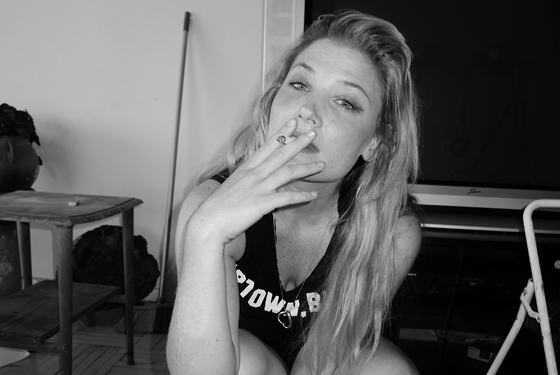 Plenty of musicians know how to put on a good show, but how many are willing to kiss you afterward?
Her eagerness to lock lips is just one of the things that makes Marnie Stern stand out in a crowd. Back in 2008, the New York rocker set up a kissing booth at her shows to help pay off a pricey speeding ticket. She charged $3 for a kiss on the cheek, $10 for the lips, and $100 for full-on, European-style smooching. Talk about putting your money where your mouth is.
Stern's kissing booth has since been retired, but even without it, her February 19 show at Soda Bar is sure to leave you slack-jawed.
The 34-year-old virtuoso is one of rock and roll's most exciting talents, known for her finger-tapping, face-melting guitar prowess. Within a year of releasing her debut full-length, 2007's In Advance of the Broken Arm, Stern was voted one of the Greatest Female Guitarists of All Time by Venus Magazine.
Her blistering sophomore release, the succinctly titled This Is It and I Am It and You Are It and So Is That and He Is It and She Is It and It Is It and That Is That, cemented her status as a musical force of nature. She's currently touring in support of her self-titled, third album, which picks up right where This Is It left off.
Don't miss the opportunity to see Marnie Stern's blazing guitar work in person. And for those looking to demonstrate their affections to her, don't lose hope. With any luck, the heavy-footed musician will get another speeding ticket on her way to the show.