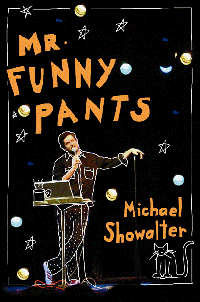 Michael Showalter, perhaps best known from a previous post on this website, has written his first book, Mr. Funny Pants, which he describes as a "humorous quasi-memoir." With a release party that featured Neko Case and a few other stops under what might be a very droll belt, his book tour is currently unfolding.
As Showalter travels around two-thirds of the countries in NAFTA, be sure to see him. San Diego people, your chance is tomorrow at the Casbah at 6:30pm. Non-San Diego people, you can find his full tour information here.
Oh, and if you haven't picked up a copy of the book, here's your chance to obtain one for free. We've got 6 copies to give away thanks to the nice folks at Grand Central Publishing. Want one?
To enter the contest, simply leave a comment on this here post and include your email address in the form (your email won't be visible to the public). The contest ends March 20, 2011, at midnight and winners will be chosen at random. The contest is open to residents in the United States and Canada. No PO Boxes, please, and only one copy per household.