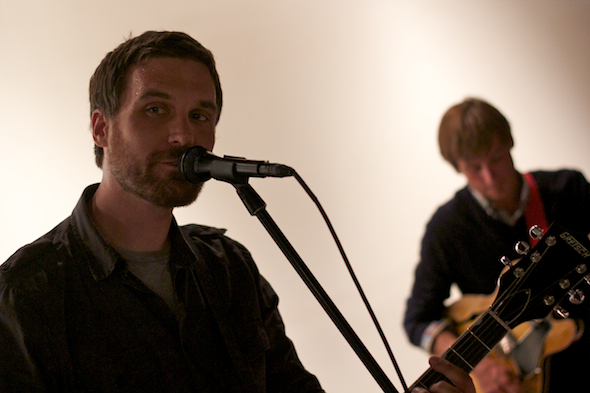 An all-ages crowd gathered in Barrio Logan on Saturday to help The Heavy Guilt celebrate the release of their new LP, In the Blood. The event — presented in part by the always-classy Latent Print — featured art by Alexander Jackson, Joseph Bowman and Ryan Tannascoli, as well as performances by Low Volts, Gun Runner, and Black Sands.
Even with all that copious musical and artistic talent on hand, The Heavy Guilt were the undeniable belle of the ball. Frontman Erik Canzona's gravelly vocals were in fine form, with songs like "It's Time" and "Wyoming" respectively evoking the heartfelt urgency of Mumford & Sons and The Swell Season.
The rest of the group provided solid — if a bit sedated — support, but luckily multi-instrumentalist Al Howard was there to infuse the set with some much-needed animation. Attacking his collection of chains, wooden boxes, bells, shortwave radios, and sheet metal like a hyperactive, long-limbed marionette, Howard single-handedly doubled the band's onstage energy.
You can check out our photos of The Heavy Guilt's set below.
Photos – The Heavy Guilt at the Glashaus – July 16, 2011