MP3: Cass McCombs – "The Same Thing"
Cass McCombs' last album, WIT'S END, was released only 4 months ago, but he already has a new one ready. On November 8, the songwriter will release Humor Risk on Domino Records. Those who were turned off by the stillborn, Rhodes-heavy WIT'S END have cause for optimism:
Humor Risk is an attempt at laughter instead of confusion, chaos instead of morality, or, as fellow Northern Californian Jack London said, "I would rather be ashes than dust!". Musically, it is more rhythm-based, tempos swifter to nearly rocking, than the sparse WIT'S END.
In another possible indicator that Humor Risk will be more lighthearted than its predecessor, the last track is billed as a sketch, so we can only assume that McCombs is planning to get his Outkast on. You can pre-order the album here, and we've got the cover art and tracklist below.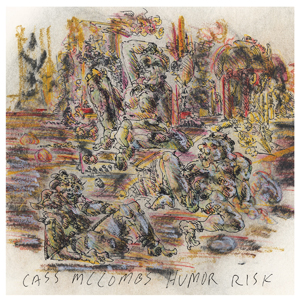 Humor Risk tracklist
1. Love Thine Enemy
2. The Living Word
3. The Same Thing
4. To Every Man His Chimera
5. Robin Egg Blue
6. Mystery Mail
7. Meet Me At the Mannequin Gallery
8. Mariah (sketch)