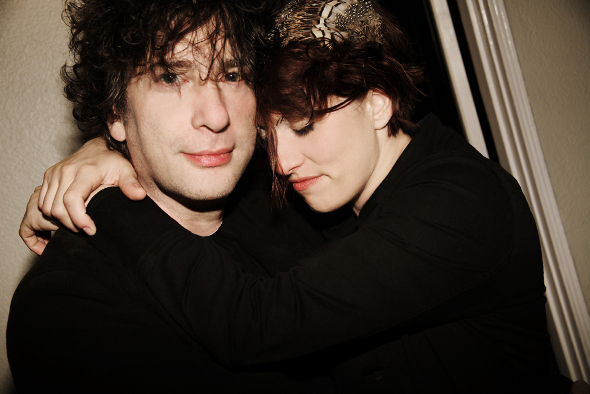 The recent marriage of Neil Gaiman and Amanda Palmer was a match made in hell. Each of them have made their careers dealing in darkness: Gaiman as the award-winning author of novels and comics like American Gods and the iconic series The Sandman, and Palmer as half of the maniacal cabaret-pop duo The Dresden Dolls and, more recently, as a ukulele-strumming solo artist. That the grim pair ended up together made for the most Hot Topic-approved wedding since Tim Burton married Helena Bonham Carter.
In fact, the union of Gaiman and Palmer has proven so perfect that they're taking it on the road. The newlyweds have just announced a fall tour they're billing as "An Evening with Neil Gaiman & Amanda Palmer," and it includes a stop at LA's Wilshire Ebell Theatre on October 31. See, even the date is scary.
According to the press release, the show should consist of "an unusual and intimate few hours of spoken word, songs, stories, chats with the audience, and — given Palmer's penchant for the unplanned — more than a few surprises." The duo have also launched a Kickstarter campaign to fund the recording of the tour, and donors can receive a variety of perks, including VIP seating and access to sound-check. The project had a goal of $20,000, but has already surpassed $100,000.
"An Evening with Neil Gaiman & Amanda Palmer" won't be the first time the two share a stage. According to Gaiman, "I've read things at Amanda's concerts. She's sung things at my readings. This will be whatever happens when we get together on a stage for two hours."
Gaiman and Palmer may deal in classical, Gothic horror themes, but the idea for the tour was actually sparked by modern social media like Facebook and Twitter. "As Neil and I get closer to our fanbases online through blogging and tweeting," Palmer says, "it's nice to spend some actual quality offline facetime with everybody. We're both really looking forward to it, I think this tour is going to provide some serious soul-food all around."
Sounds pretty good to us. And if you think San Diego is being neglected by the pair, don't worry, you're only half right. Palmer will play the Birch North Park Theater on October 28, sans hubby. Tickets for the LA show can be purchased here and tickets for the San Diego Palmer solo show can be purchased here. Black eyeliner sold separately.
Amanda Palmer Tour Dates
10/28: San Diego, CA @ Birch North Park Theatre w/ The Jane Austen Argument
10/29: Los Angeles, CA @ El Rey Theatre, A Halloween Spectacular w/ Jason Webley & The Petrojvic Blasting Co.
10/31: Los Angeles, CA @ Wilshire Ebell Theatre, 7pm*
11/4: San Francisco, CA @ Palace of Fine Arts, 7pm*
11/6: Vancouver, BC @ Vogue Theatre, 7pm*
11/8: Portland, OR @ Aladdin Theatre, 7pm*
11/9: Seattle, WA @ Moore Theatre w/ Jason Webley, 7pm*
* = An Evening With Neil Gaiman & Amanda Palmer