Bone Quida Ida is one of San Diego's most promising new musicians, and he only has three songs. The one-man band — aka Latent Print writer Dustin Illingworth — has released three tracks on Soundcloud, and each one's a gem. With his warm synth work and choral vocals doused in reverb, Bone Quida Ida calls to mind acts as varied as Animal Collective and Paul Simon. That the music makes such a big impression over the course of a few short tracks is a testament to Illingworth's obvious talent.
That talent has already earned him plenty of attention. Blogs like Get Off the Coast, Glo-Fi Must Die, Gluttony is the New Black, and Einstein Music Journal have all sung his praises, and the warm reception has prompted Illingworth to graduate Bone Quida Ida from solo recording project to full-fledged band.
Expect live performances from Bone Quida Ida beginning in 2012, as well as a debut EP, tentatively titled Beneath the Pier, which will include the three already-released songs as well as some new ones. It may be too early to tell, but if Bone Quida Ida keeps up the level of quality he's already established, he should have no problem establishing himself as one of San Diego's hottest acts.
Illingworth was kind enough to send us a list of his influences, and it's one of the most thoughtful and emotional ones we've ever received. Check it out below.

1. "Diamonds on the Soles of Her Shoes" by Paul Simon: My parents used to play Graceland quite a bit during '89 and '90. For me, it always brings to mind the freedom of a youthful summer — just pure joy and a feeling of safety. I had never heard anything like it as a child and the afro-pop inflections were like magic to me. As a kid, the lyrics were hard to understand (I was too busy bouncing around to the melodies) but as I grew older I was blown away at the little vignettes Simon weaves into these perfect pop structures. He's a master songwriter. I love the line "And I can say 'oooooh' and everybody here would know what I was talking about." I think this is incredibly relevant today when you have a number of bands (Bone Quida Ida included) who use reverb as a way to convey a feeling. Sometimes it's not about the lyrical content, it's about the overall feeling of a composition. Constructing this "feeling" is what's exciting to me as a creator of electronic pop music. What does a memory sound like? Paul Simon articulates it perfectly with that lyric — he's just saying "oooh" but because of the power and expressiveness of his melody he has created a "feeling" in which a wordless sound becomes eloquent.
2. Under the Volcano by Malcolm Lowry: Literature has always filled my life and given it shape. When I was 19 or 20, I was so concerned about the practicality of a career or profession. I was fighting against my impulse to be embrace the latent artist in me; how was I going to pay rent or my student loans? When I finally (and inevitably) gave in to what was inside of me, I decided to pursue a degree in English Lit in 2003 (UC San Diego). I had heard about Under the Volcano from a few trusted lit forum users and friends but I had yet to experience it for myself. When my old band was on tour, we stopped by the used book mecca Powells in Portland and I found a 60s era copy of Volcano. I think I read it in about four days after we got back from the tour and it remains my favorite novel. It's the story of an alcoholic ex-consul in Mexico during the late '30s. Lowry's depiction of Mexico reads like a love letter describing a nightmare. There are rich evocations of townsfolk, markets, rodeos, cantinas, and gardens, all wrapped in a feeling of dread and mystery that is hard to put your finger on. What still destroys me all these years later is how Lowry will couch this man's tale of loss and tragedy in some of the most diamond-bright and beautiful language I've ever read. It's the story of a man disintegrating but the beauty of Lowry's words makes it feel like you're watching a falling star.
3. The Coen Brothers: The Coen brothers came into my life during a time when I was trying (emphasis on trying) to move from a confused suburban kid to a confused, cultured man of the arts. They made me feel sneakily intelligent when I was 20. Now I just stand in awe of their work, a mixture of hero worship and envy. In a way, they have provided a kind of cinematic narrative to my 20s. Meaning and memory are wrapped around so many of their films that, for me, it would be difficult to extract that residue of feeling from the movie itself. They have simply woven themselves into the tapestry of my life. Knowing these two are out there somewhere, brooding, perhaps writing — this gives me inspiration and serves as a kind of admonishment: try harder in your art.
http://www.youtube.com/watch?v=96jFtzVa80A
4. "The Sign" by Ace of Base: Again, this one comes from my childhood. I was 12 years old in 1994 and I remember hearing this track on my boombox in the backyard of my parents' house. It was like this light washing through me and I felt myself almost physically glowing from the melody. This remains (in my opinion) one of the most concise and well constructed pop songs ever. There are hooks-within-hooks, a ridiculously sneaky-good dub/reggae bass line, the best bridge of the 90s, and great vocal deliveries from the Berggren sisters. When I listen to this song, I feel like I do when I listen to virtually any ABBA song: some sophisticated pop algorithm wrote this, not a human. Of course, when I was 12, I couldn't have described why I liked it so much. It just felt like I was touching the sun.
5. Foxy, my cat: At the risk of sounding like a "crazy cat lady" kind of guy (too late, huh?), this list would be incomplete without my beloved feline, Foxy Jenkins. I record all my BQI songs inside my small apartment and Foxy does not like this process at all. When I'm singing, she thinks I'm in distress. She'll come running up to me (and the mic), meowing and expressing her concern. She's definitely on every BQI song so far — listen carefully for some reverbed meows deep in the background. In all honesty, she has been my ray of sunshine through a dark year. I tend to like animals more than people. Does this make me a misanthrope or just an animal lover?
6. "Ponytail" by Panda Bear: I thought it would be a little bit absurd to make this list and not include a Panda Bear jam since BQI gets compared to his style quite a bit. What I like most about Panda Bear is the way he weaves his hooks into the middle of vocal lines, somewhat unexpectedly. This isn't the straight-ahead pop of James Mercer or Carl Newman (both masters in their own right); PB frustrates your expectations of what a pop song should be while at the same time delivering the most memorable hooks since Brian Wilson. That is no small feat and it's why, in my opinion, his music is at the forefront of electronic pop. "Ponytail" at first listen seems like this little unassuming piece of ephemera, like an alien's music-box has been opened up. But after repeated listens, you realize it has the most insidious hook. The transitions between sections are so flawless that if you have one part of the song stuck in your head, you will soon have the whole song stuck in your head. I've had days where I have to sit down and listen to, like, Billy Joel's "Uptown Girl" or something in order to extricate this song from myself. It always brings to my mind an incubating egg, pulsing lightly to that subtle kick drum. It feels so warm and complete, like it has always existed and you're just now finding it.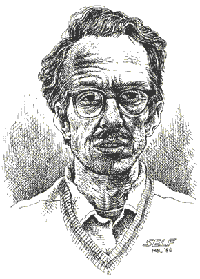 7. R. Crumb: I grew up as a comic book nerd and semi-collector but I somehow fell out of touch with comics when I turned 13 or so. I felt like I had outgrown the medium and, truth be told, I was more interested in girls and basketball. It just seemed like a juvenile pursuit. Flash forward to 2001. I'm 19 years old, lost, smoking too much pot, completely unhappy with my studies. I picked up Terry Zwigoff's documentary Crumb from the local Blockbuster and popped it into my VHS player. Two hours later I was left shaken and, I think, changed. I was utterly fascinated by this man who seemed to to survive only because of his art. He had an abusive father, a pill-popping mother, two troubled brothers (one of which killed himself after the filming of the documentary), and a sexual drive bordering on deviant. Crumb's art was his life raft. What I admire most about him is how willing he is to expose the rotten, perverse, unsavory, and downright despicable elements of himself in his art, all for the sake of self-knowledge and his own only dimly-understood compulsion to create. This documentary was for me what Rilke's "Letters to a Young Poet" was for the literary set 70 years ago: a comfort and a call to arms. Crumb told me it's ok to be weird or anxious or unhappy; I just needed to make something out of it. I have since collected and read as much of his work as I can. I read it often, sometimes with awe, sometimes with disgust, but always with a measure of respect.
8. "A Charlie Brown Christmas" by Charles M. Schulz: This unassuming holiday special is like a holy relic to my sister and I. We'll watch it on Thanksgiving and pretty much any time after that up until the 25th. It means so many things to me: the pervading sense of melancholy and bittersweetness, the children's untrained voices, the magical music of Vince Guaraldi, and the real heart and emotion this twenty-minute gem displays. It is a classic, in every sense of the word, and I look forward to carrying on this tradition with my own kids someday. I don't have any tattoos but the only time I was close to getting one was when I wanted Charlie's pathetic little tree on my forearm. It's a symbol I would be glad to keep with me until the end.
http://www.youtube.com/watch?v=91uDH-0YGFM&feature=related
9. "Born on a Train" by The Magnetic Fields: I got into The Magnetic Fields in 2002 or so (a little late to the party perhaps) when I was making music primarily with my acoustic guitar. When I first sat down with Holiday and Charm of the Highway Strip, I realized there was this entire world of synth-pop that I could dive into. I can't describe how happy or free it made me feel. The guitar was starting to feel like a taskmaster during songwriting, and The Magnetic Fields helped to show me that you can create these entrancing pop songs without the use of a single stringed instrument. Stephin Merritt is a pop genius and his catalog makes me want to retire from songwriting all together — there are just so many staggering songs. I chose "Born on a Train" because it can be seen as a kind of template for many of the Mag Fields' songs: overriding melancholy enmeshed in an earworm pop hook. Merritt's muses pop up frequently throughout his discography and each time you hear them, it's like greeting an old friend: the moon, trains, love, dancing, drinking. He has created a musical cosmos that provides inexhaustible wonder for me.
10. "In the Aeroplane Over the Sea" by Neutral Milk Hotel: There's not much anyone can say to add to the myth and beauty of this song so I will simply relate what it means to me. In 2010, my girlfriend of four years, the love of my life and future wife, died in an accident on the Fourth of July. This was one of the three or four songs she always asked me to play for her. Among the countless cherished memories I have, I also have this beautiful and mysterious song to remind me of her. The first lines particularly resonate with me: "what a beautiful face I have found in this place that is circling all 'round the sun / what a beautiful dream that could flash on the screen in a blink of an eye and be gone from me / soft and sweet / let me hold it close and keep it here with me." I'll think of her every time I hear it, forever.