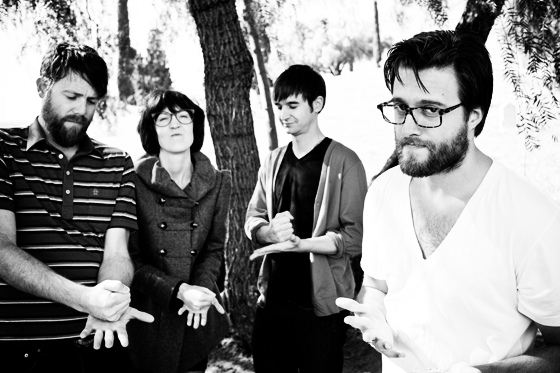 MP3: Birds & Batteries – "Squeeze Box" (The Who cover)
MP3: Birds & Batteries – "Strange Kind of Mirror"
Last year, San Francisco's Birds & Batteries released Panorama, quite possibly their best album yet.
Like many indie bands, Birds & Batteries started as a solo project, with lead singer Michael Sempert making recordings at his home in Cape Cod. Three years later, after a move to California and the addition of three band members, the band has blossomed into something truly original.
When asked why he upgraded his solo project to a full band, Sempert cited "the basic need to have this music played by talented humans." The decision is paying off. On Panorama — the band's third effort — the talent is readily apparent.
Sempert & Co. will join Lord Huron, Peter Wolf Crier, and San Diego's own Chairs Missing at Sunset Temple on November 10 for Sezio.org's Four Day Weekend event. In anticipation of this show, he told us about ten songs that have most influenced him.
Poetic Memory: Birds & Batteries
1. "Ponta de Areia" by Milton Nascimento: I listened to this record as a kid and didn't like it at first. When I was a freshman in high-school, something changed and I fell in love with the album because of this song. It still connects me with innocence and excitement.
2. "Once In A Lifetime" by Talking Heads: Ubiquitous for good reason. I love the lyrics and the open feeling of this song.
3. "#9 Dream" by John Lennon: Completely epic and gorgeous. His voice is amazing and the production is suitably dreamy. What an indescribable feeling I get from this song.
4. "Pagan Poetry" by Bjork: The song inspires me, as does the whole Vespertine album. This is music you can escape into. There's all these tiny figures, details and depth that contribute to a sense of wonder.
5. "The Heart of Rock and Roll" by Huey Lewis: One of my first musical memories is picking up this record and playing it myself. Nostalgia is a big factor here, but so is quality.
6. "Quattro (Worlds Drift In)" by Calexico: Powerful lyrics. This band transports you to its namesake on every listen. Sounds like the desert, like tequila, dust, and mystery.
7. "I Went To The Hospital" by Cass McCombs: Cass writes incredible songs and this is a bold example.
8. "Another View Point" by Cornelius: A genius of electronic arrangement and production. Dope.
9. "Tears of Rage" by The Band/Bob Dylan: The Band's self-titled album is one of those perfect works, you think, "how did they do it?" I used to cover this song just for the sake of belting.
10. "The Ballad of Easy Rider" by The Byrds: I went through a pretty thorough Byrds phase. I love this whole album and the opening track is simple, beautiful. Put a river in your song, no one will complain.
Birds & Batteries tour dates
10/27 – Reno, NV – Studio on 4th
10/28 – Salt Lake City, UT – Kilby Court
10/29 – Boise, ID – Neurolux
10/30 – Tacoma, WA – TBA
11/01 – Portland, OR – Mississippi Studios
11/02 – Seattle, WA – The Tractor
11/04 – San Francisco, CA – Cafe Du Nord
11/05 – Visalia, CA – Cellar Door
11/06 – Santa Cruz, CA – Crepe Place
11/07 – Santa Barbara, CA – Muddy Waters
11/08 – Los Angeles, CA – Bootleg Theater
11/10 – San Diego, CA – Sunset Temple
12/21 – Medford, OR – Johnny B's
12/22 – Portland, OR – Doug Fir
01/06 – Palm Springs, CA – Ace Hotel