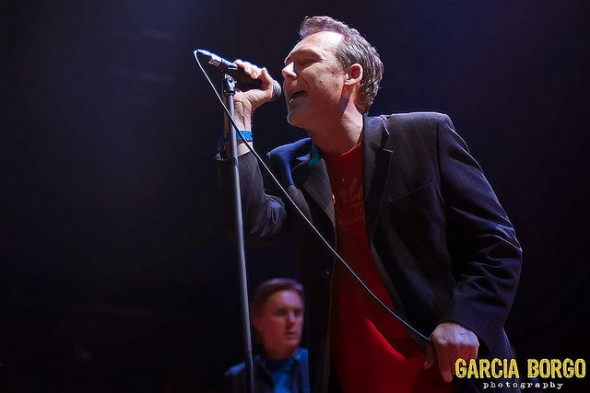 The crowd at the House of Blues on Sunday was comprised of middle-aged people who had undoubtedly followed The Jesus and Mary Chain during its '80s heyday — as well as a number of 20-somethings and teens, who were probably still sucking their thumbs when the band broke up in 1999.
During the nearly sold out show, The Jesus and Mary Chain played a variety of songs from its back catalog, including favorites like "Head On," from 1989's Automatic, and "Just Like Honey," from the band's 1985 debut, Psychocandy. The band also played "Snakedriver" — which was featured in The Crow — and other Psychocandy classics like "The Hardest Walk," "Taste Of Cindy, and "Never Understand." Overall, despite occasional miscues, the band more than showed its musical chops.
New York's Cold Cave opened for The Jesus and Mary Chain, and played a darker, Depecheier version of Depeche Mode, with David Bowie-esque vocals. The audience loved Cold Cave's dramatic and elegant performance, and expressed approval via dancing, singing, and loud cheers.
San Diego's Phantom Radio kicked off the evening. The band's lead singer came onstage wearing a gas mask and a cape, and said "You better get used to us because we aren't going nowhere." Phantom Radio sounded like a combination of the Ramones and X, with several Dave Grohl-style screams thrown into each song for good measure.
Photos – The Jesus and Mary Chain, Cold Cave, and Phantom Radio at House of Blues – June 17, 2012