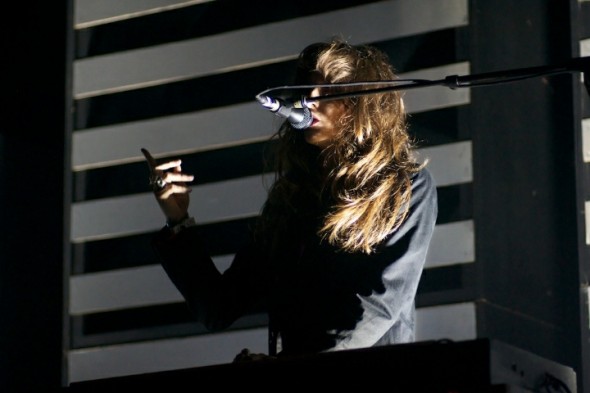 MP3: Beach House – "Zebra" (UK Edit)
MP3: Beach House – "Norway"
Dream-pop bands Beach House and Wild Nothing played to an enraptured House of Blues on Sunday.
Though the audience was clearly there for indie stars Beach House, many attendees lined up early to see Virginia one-man band (with a backing band) Wild Nothing. The floor was packed with enthusiastic all-agers before the show even started, and the crowd reacted like Beatlemaniacs when Jack Tatum took the stage.
Evidently Tatum is a favorite among the ladies; one fan even attempted to throw him a love note with her number scrawled on it. Unfortunately, the note wound up in the pocket of a linebacker-sized bouncer. Don't worry Olivia, he promised me that it wouldn't "get into the wrong hands."
Baltimoreans Beach House received a similarly adoring reception. The band played several songs from its new record Bloom as well as past LPs, and the audience ate it up. Bloom may follow in the mellow footsteps of its predecessor Teen Dream, but it's definitely a grower. At the show, new tracks like "Myth," "Wild," and "Lazuli" were standouts.
Beach House doesn't really have any anthems, but this didn't stop the crowd from singing along throughout the set. The fact that songwriter/keyboardist Victoria Legrand stood motionless at back-center stage for most of the show didn't seem to bother anyone, either.
Beach House may not be the most dynamic band in the world, but the music is sublime, and Legrand's voice is basically supernatural. On Sunday night, only cynics and cranks left House of Blues unhappy.
Photos – Beach House at House of Blues – July 1, 2012
Photos – Wild Nothing at House of Blues – July 1, 2012