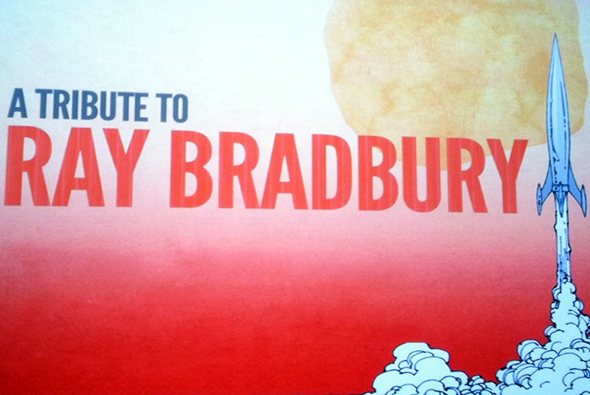 "Everyone must leave something behind when he dies… Something your hand touched some way so your soul has somewhere to go when you die, and when people look at that tree or that flower you planted, you're there." – Ray Bradbury, Fahrenheit 451
He was on the expo hall floor, in a few panels, and I even think I saw him in line for frozen yogurt at the Hilton. You may or may not have noticed, but Ray Bradbury, science fiction/fantasy author and Comic-Con enthusiast, was ever-present at this year's Comic-Con. Although his passing was recent, his lasting impression was felt by many, his name and his ideals reflected in the eyes of most attendees.
Thanks to Sam Weller, Bradbury's official biographer for the last twelve years, two events celebrated Bradbury's influence at this year's Comic-Con. First up: Thursday's panel, set in the intimate Room 5AB, brought together a few contributors from the recently released Shadow Show, a compilation of short stories created in Bradbury's vein. Panelists Sam Weller, Mort Castle (author of The Stranger), Joe Hill (horror author and Stephen King's son) and Margret Atwood (The Handmaid's Tale and The Blind Assassin) each offered an insight into different aspects of the author's significance and shared shared stories about Bradbury's impact on their own writing.
Atwood acknowledged that Bradbury had always written from the heart, dismissing rules of genre. Weller reminded everyone of a Bradbury motto: "Love what you do and do what you love" (reminiscent of San Diego design blog Holiday Matinee's motto, "love your work. work your love"). Hill recalled moments from his childhood reading stories like "The Fog Horn" and "The Lake," in turn influencing his deeper thoughts and future writing. At times throughout, Weller appeared to be holding back tears in fond remembrance of a hero and friend.
Saturday evening, after sitting through a teenager-packed, hysterical Glee panel in the Indigo Ballroom to secure good seats for the tribute to Bradbury that followed, I found myself surrounded by a select few Bradbury enthusiasts. Not a single costume in the one-third-filled room. Even though the description encouraged attendees to dress as their favorite Bradbury character, there was not a firefighter in sight. Somber was not quite the tone, but neither was celebration. Sam Weller and Mark Evanier (comic historian and TV writer) hosted the event, inviting a whole cast of characters to the podium throughout the night.
Rachel Bloom opened by performing without censorship, in true Bradburian style, with "Fuck Me Ray Bradbury" to the cheers of a mostly aging audience. After Bloom, the show was sprinkled with a few old video clips, peppered with people like William F. Nolan, Margret Atwood, Joe Hill, George Clayton Johnson, and Stan Freeburg. Due to time constraints, the producers of the short film Small Assassin (2011) never had the chance to show off their own tribute of one of Bradbury's eerier tales.
Bradbury was everywhere at the Con, including a literary panel on time travel (of course). David Brin (futurist and author of Existence) found himself passionately arguing in Bradbury's name the plausibility of a positive future with none other than Orson Scott Card (author of Ender's Game). I'm pretty sure I saw Bradbury nodding in the corner.
He will never be forgotten and remembered for all time. Thank you most of all, Mr. Electrico, for allowing Ray to live forever.