http://vimeo.com/38061988
MP3: Sharon Van Etten – "Serpents"
MP3: Sharon Van Etten – "Don't Do It"
Sharon Van Etten's new album is one of the year's best.
Tramp, recorded over 14 months with The National's Aaron Dessner, sees Van Etten fully realizing her songwriting abilities. The production, too, is a leap beyond her past work, with swirling, layered vocals and rich-but-subtle instrumentation creating a balanced, immediately listenable effort.
Yet despite the cutting-edge studio treatment, the Brooklynite remains rough around the edges and devastatingly frank about her feelings (she wouldn't be herself if she wasn't). The song "Leonard" is a highlight, as Van Etten's vocals wash over the listener in a flood of pathos. A lyric like "Well, hell / I am bad / at loving" is deeply introspective, but Van Etten sings it with a shrug. While some songwriters might sound defeatist, for Van Etten, it's self-acceptance and it's easy to empathize with her.
In other places, too, Van Etten treads the line between vulnerability and stubborn strength. Self-deprecation is omnipresent, but there's virtually no melodrama. On "Serpents," any sense of self-pity is short circuited by stubbornness: "You enjoy sucking on dreams / so I will fall asleep / with someone other than you." Van Etten knows what she's doing, even if it's bad, and she accepts the consequences.
During the recording of Tramp — a clever double entendre — Van Etten didn't have a set place to live. She obviously had a lot of good friends, though, as Zach Condon (Beirut), Jenn Wasner (Wye Oak), Matt Barrick (The Walkmen), Julianna Barwick, and Dessner make appearances on the album. With the help of these friends — and some serious songwriting skills — she has made her best album yet.
Sharon Van Etten will play the Belly Up on August 14; husband and wife indie darlings Tennis will open. Tickets may be purchased here.
Sharon Van Etten's Poetic Memory: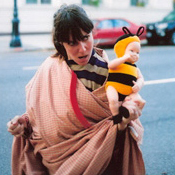 Woody Allen: My favorite romantic comedian. Can make me laugh and cry within minutes of the same movie.
Seinfeld: My favorite TV show. Never gets old. A comedy about New Yorkers in real life situations, awkward and funny – like me! I love to laugh at life.
She Keeps Bees: One of my favorite Brooklyn bands. Jess has a tough raspy bluesy voice that conjures strength in me.
Fleetwood Mac: I love them so much. I listen to their badass lyrics and amazing harmonies for ideas of my own.
Jean-Luc Godard: The visuals I get from watching his movies are a guideline for learning how to describe intimate moments.
Red wine: Helps me to relax at the end of a day, so I can unwind and write.
Chocolate: Especially dark chocolate — is a nice reward to myself and a good pairing with red wine. I like to write with both.
Coffee: To the one thing that helps me get up in the morning and helps me through! Stumptown, Blue Bottle, & Oslo being my favorites.
My Subaru: My good ol' reliable Ruby helps me get around safely.
My boots: I have an obsession with boots. It's on the verge of unhealthy. I love the lace up boots that reach my ankle. I feel like I walk more confidently in them and I walk with better posture.
Sharon Van Etten on tour
8/10/12 – San Francisco, CA – Golden Gate Park (Outside Lands)
8/12/12 – Los Angeles, CA – Greek Theatre
8/14/12 – Solana Beach, CA – Belly Up Tavern
8/15/12 – Phoenix, AZ – Crescent Ballroom
8/17/12 – Salt Lake City, UT – Urban Lounge
8/18/12 – Jackson, WY – Caldera Festival
8/19/12 – Boulder, CO – Fox Theater
8/20/12 – Kansas City, MO – Riot Room
9/22/12 – Asbury Park, NJ – Paramount Theater (ATP's I'll Be Your Mirror)