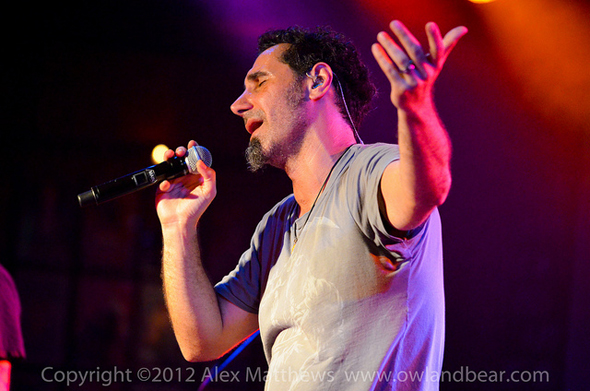 Serj Tankian, best known as the vocalist for System of a Down, brought his solo show to the Belly Up in Solana Beach on Thursday, September 27.
Tankian played a set of his solo material, including many songs from his new album, Harakiri. Although the album name references ritual suicide, Tankian's set and band were full of life: they rocked hard and provided a great backdrop for Tankian to groove along.
The overall theme of Tankian's solo work draws upon ideas of corruption in government and business and environmental concerns. Drawing on a mix of rock, metal, and more traditional Armenian influences, Tankian sings with passion about these topics, but at the same time makes music that is entertaining to see live.
Set highlights included new songs like "Figure It Out," which repeats the words "CEO's are the disease" over and over again. "Empty Walls," a single from Tankian's first solo album, Elect The Dead, was another gem and closed the set. Between Serj's powerful vocals and the high-intensity metal riffing from his backing band, the song kept the crowd enthralled.
Hopefully another System of a Down record will be released within the next few years, but until then, Tankian's solo work will more than suffice.
Photos – Serj Tankian at the Belly Up