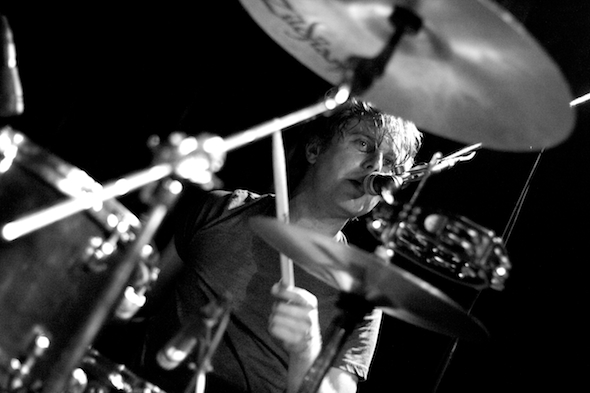 England's Blood Red Shoes played their first show in San Diego on Wednesday.
The Brighton duo may have been a long way from home, but they wasted no time introducing the crowd to their high-octane rock and roll. Drummer Steven Ansell had the manic energy of five musicians, trading vocals with demure guitarist Laura-Mary Carter. New songs like "Cold" and "In Time to Voices" blended seamlessly with established scorchers "It's Getting Boring By the Sea" and "Heartsink," each gloriously deafening track stretching the Casbah's sound system to its limit.
The band played to an eclectic crowd comprised of locals, Japanese tourists, and visitors from Tijuana, and even Florence Welch of Florence and the Machine was reportedly in attendance. Blood Red Shoes made a thundering impression on each demographic, bringing every bit of their albums' raw power to the stage. Let's hope they come back and do it all over again soon.
Photos – Blood Red Shoes at the Casbah
Photos – Hills Like Elephants at the Casbah