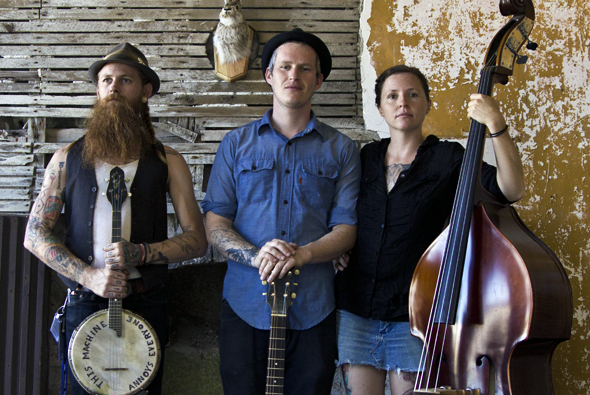 MP3: The Devil Makes Three – "Tow"
Just one year after releasing its first live album (and sixth LP overall), Santa Cruz folk punks The Devil Makes Three will return to San Diego for a sold out show at the Belly Up.
One listen to Stomp and Smash, and it's easy to see why fans flock to the trio's shows: the band's whiskey-drenched, badly-behaved brand of bluegrass has just two energy levels: high and really high.
Stomp and Smash was recorded by Karl Derfler — best known for his work with Tom Waits — during a sold-out two-night stand at The Mystic Theater in Petaluma. The album, which features fan favorites like "Old Number Seven" (a reference to Jack Daniel's whiskey), as well as politics-infused new songs like "They Call That Religion," shows the charismatic threesome at its best.
In anticipation of the band's San Diego stop, The Devil Makes Three's singer/guitarist Pete Bernhard sent us a list of his influences.
Top 5 influences of The Devil Makes Three (not in order of importance)
1. Science fiction, vampires, and zombies: Everyone in our group loves science fiction, vampires, and zombies. I think I speak for all of us when I say that anything involving vomiting blood will be viewed. Some members will watch movies that seem to have no plot at all, as long as they involve gruesome death and evil plague. Enslaving of the human race by alien hordes is also TDM3-approved watching or reading material.
2. Old vinyl records: We collect records compulsively and can't stop. These records have endlessly inspired us and most of them sound nothing like the music we write as a band. Records are bigger better and more fun than CDs, so they must be purchased whenever possible and with reckless abandon.
3. Diesel engines: We have three diesel engines that drag us around both personally and as a band. Diesel motors deserve respect and traveling the countryside in a gas powered car in this day and age is insanity. Diesel gas milage is so much better, and the diesel motor can be run on veggie oil. In fact, it was designed to do so. Does it seem strange to be inspired by a motor? We are strange people and our band is strange. If you like us, you too are probably strange in some way. Who isn't?
4. Chess Records: Founded in Chicago in 1950, Chess Records released rock and roll, blues and jazz. Chuck Berry, Muddy Waters, Little Walter, Willie Dixon, and Howling Wolf are among the many great artist that came out on Chess Records. I first discovered the label when I was twelve years old through my older brother, who is a fellow musician. Thanks to my brother and Chess, I now play in TDM3.
5. Punk bands: We all enjoy or have at one time enjoyed punk music. Without punk music, I'm pretty sure we never would have started a band or had anyone to play with. Our music doesn't sound like punk music, but the way we started our group and the shows we played all followed a path taken by many others who played in the punk music scene. We started without a record label or backing of any kind, and I don't think that would have happened had we never heard punk music. Members of TDM3 have played in punk bands. One might ask, "Were they good bands?" The answer to that question is a "no."
The Devil Makes Three on tour
10/30 – Solana Beach, CA – Belly Up
10/31 – Flagstaff, AZ – Orpheum Theatre
11/01 – Tucson, AZ – Club Congress
11/02 – Los Angeles, CA – House of Blues
11/03 – Santa Cruz, CA – The Catalyst
11/04 – San Francisco, CA – The Fillmore
11/07 – Chico, CA – Senator Theatre
11/08 – Ashland, OR – Historic Ashland Armory
11/09 – Portland, OR – Crystal Ballroom
11/10 – Seattle, WA – Showbox Market
11/11 – Eugene, OR – McDonald Theatre
11/14 – Spokane, WA – A Club
11/15 – Missoula, MT – Wilma Theatre
11/16 – Boise, ID – Visual Arts Collective
11/17 – Salt Lake City, UT – The Depot