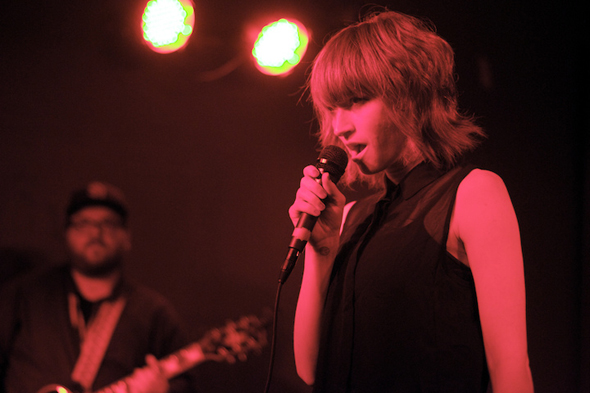 Bunny Gang may have lost its name down a legal rabbit hole, but raw talent knows no bounds.
In fact, the band –Â now called Boy King after Nathen Maxwell, bassist of Pogues ripoff band Flogging Molly, slapped the trio with a cease and desist –Â probably made the right move. The change to Boy King only underscores the fact that this ambitious crew holds court wherever it goes.
Like The New Kinetics — another local band fronted by a powerhouse female singer — Boy King specializes in a kind of walloping, hard rock that instantly draws you in. The formula for Boy King is simple: guitarist Dustin Lothspeich (also of Old Tiger) plays blistering guitar riffs while Megan Liscomb (formerly of Owl Eyes) sings about her "sex nightmares." Drummer Adam Eidson stays in the shadows, but he provides a critical backbone supporting both Lothspeich's heavy guitar work and Liscomb's unhinged wailing.
Lothspeich's other band, Old Tiger, is also making a name for itself in the San Diego music scene. (In fact, Old Tiger just released its debut LP, Love Have Mercy.) With outlets for both classic-style rock (Old Tiger) and experimental hard rock (Boy King), Lothspeich seems right where he wants to be. Liscomb, for her part, has reached a whole new level of performance — both vocally and in terms of stage presence.
As for the crowd at the Griffin, we were right where we wanted to be, too.
Photos – Boy King at the Griffin