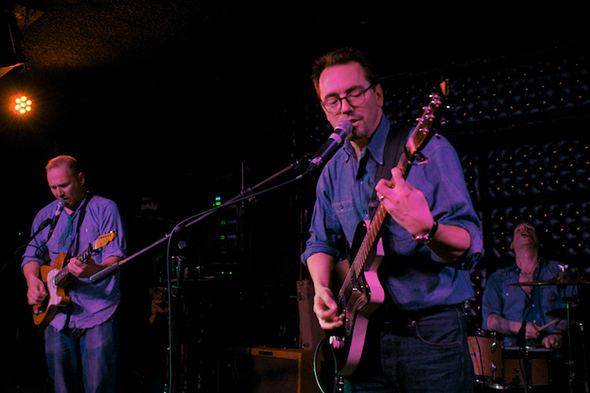 A large, cake-starved crowd turned out at the Casbah on Sunday to see Chicago indie-rock staples The Sea and Cake.
The band visited San Diego in support of Runner, their new album and best effort in years. On Runner, The Sea and Cake create a highly effective synthesis of past and present — an encapsulation of their sound — while still flexing their creative muscles. Gorgeously produced (as always) by drummer John McEntire, Runner brings back the electronic experimentation which decorated the band's efforts during the late '90s/early aughts that has been scarcely heard since 2003's One Bedroom.
Tracks like "Skyscraper" and the opener "On And On" emphasize the band's more recent proclivity for up-tempo rockers, with McEntire's driving beats leading into mid-tempo breakdowns and Prekop's voice coming as close to soaring as it ever has. The opening half of "The Invitations" harks back the synth-laden sound of 1997's The Fawn before evolving into a danceable drum and bass riff more reminiscent of One Bedroom. Closing track "The Runner" shines with the melancholic beauty that characterized the band's oft-overlooked gem, Oui.
In short: with Runner, it's all there. Whatever era, whatever record you think is The Sea And Cake's best, there's something on the album that will grab your attention.
The band's show at the Casbah functioned in much the same way. With a set list of mostly upbeat songs culled from the band's nearly twenty-year catalog, each member performed impeccably, with Prekop leading the songs on vocals and rhythm, Archer Prewitt playing the riffs on guitar, and the inimitable McEntire on drums. As a special treat, Tortoise's Doug McCombs filled in on bass for Eric Claridge, and he played like he knew each song by heart. Either McCombs is extremely talented, or, well, there is no other possibility.
Several tracks from Runner were show highlights, including the aforementioned "The Invitations" and "On and On," which opened the show, as well as "Harps" and (appropriately for San Diego) "Pacific." Prekop was clearly frustrated by vocal delay difficulties on "The Invitations," but it still sounded good to everyone there.
For the encore, the band played "Lyric" and "The Runner." Much of the evening's set list may have been based around the new album, but the songs already felt like old friends — much like The Sea and Cake itself.
Aaron Amstutz contributed to this review.
Photos – The Sea and Cake at the Casbah