La Jolla Playhouse has brought The Flaming Lips' most beloved album, Yoshimi Battles the Pink Robots, to the stage as a tour de force musical that blends Broadway, science fiction, and martial arts into a stirring meditation on mortality.
Kimiko Glenn plays Yoshimi, a young artist diagnosed with lymphoma. Her struggle against the disease is visualized as a series of incredibly choreographed, jaw-dropping set pieces that find her kung fu fighting an army of "pink cell" robots. As she is torn between life and death, she is also torn between two lovers: her suave boyfriend Booker (Nik Walker) and her ex, the well-meaning but ineffectual Ben (Paul Nolan), whose puppy-like devotion to Yoshimi is just barely tolerated by Booker and Yoshimi's beleaguered parents.
The love triangle is established with visual efficiency via a versatile series of sets and floating projection screens that remain in near-constant flux throughout the play. All three actors turn in fine work, with Glenn in particular infusing her character with heartbreaking pathos and a deep-set beauty that makes it easy to understand why Ben and Booker are so in love with her. The fight scenes also allow Glenn to shine, as she switches convincingly from infirm patient to ass-kicking warrior. Glenn handles the scenes' physicality with remarkable grace, and when she holds a defiant fighting stance as the threatening robots first appear around here, the image is epic, thrilling, and very, very moving.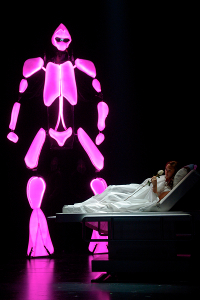 The play utilizes songs not just from the Yoshimi record, but from other Flaming Lips albums as well. "Race for the Prize" and "Spoonful Weighs a Ton" from The Soft Bulletin and "YeahYeahYeah Song" and "Mr. Ambulance Driver" from At War With the Mystics are put to good use here, lending additional scope to the Yoshimi material. The retrospective feel allows the play to serve as a de facto Flaming Lips greatest hits compilation, which should please fans of the band.
The songs themselves are smoothed out for theatrical consumption, losing much of the distortion and cacophony that are hallmarks of The Flaming Lips' sound. The showtune-y varnish can be jarring at times, but allows the lyrics — and through them the characters' feelings and motivations — to take center stage. Most of the actors wisely avoid delivering Wayne Coyne impressions with the exception of Nolan. With his unkempt hair and vest, his Ben is the obvious surrogate for Coyne, but Nolan's hernial delivery on "Fight Test" and "Yoshimi Battles the Pink Robots, Part 1" is one of the play's only missteps.
It's impossible to discuss the play without noting what an immense technical achievement it is. There are a million ways that depicting pink robots could have gone wrong, but La Jolla Playhouse clears the bar with ease. The robots are imagined as exoskeletons lit with LEDs, their swaying, exaggerated movements giving them the look of ominous, stalking jellyfish. Director Des McAnuff and his team use several variations of the robots to meet their needs — actors in suits, mannequins that are whisked around the stage in simulated flight, and, in the most stunning example, the 14-foot, expressive 3000-21 robot, which takes several people to operate and is an irreducible marvel of puppetry and design.
The first act contains most of the play's flashy moments, but the second act opts for a more grounded, contemplative approach. The two halves compliment each other well, offering a thoughtful examination of life, love, forgiveness, and acceptance. The story by Coyne and McAnuff is lean, effective, and endlessly imaginative, and designers Robert Brill, Paul Tazewell, Sean Nieuwenhuis, and Basil Twist get astounding mileage out of the story's central metaphor.
All that talent pays off: Yoshimi Battles the Pink Robots is a breathtaking accomplishment on every level. It stretches the limits of what can be achieved onstage and serves as a shining example of what can happen when every piece of the machine — writing, music, acting, set design — is firing on all cylinders. Yoshimi Battles the Pink Robots pulls off an impossible feat: taking a classic album beloved by millions and towering over it like a giant, glowing robot.
Yoshimi Battles the Pink Robots is playing at the La Jolla Playhouse though December 16. Tickets can be purchased here.