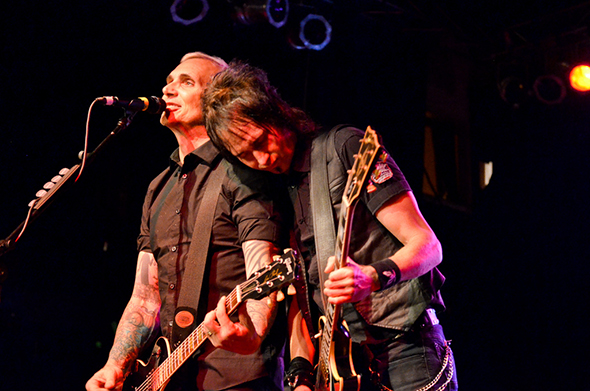 Last Saturday's Everclear and Eve 6 show at 4th & B provided a shot of nostalgia for people who grew up in the '90s. And that worked out just fine — although couches did need to be moved onto the dance floor, presumably for some of the aging attendees' aching joints.
After emo-rock openers Namesake butchered the audience's eardrums with a ghastly Bon Jovi cover and other Hot Topic-themed music, Eve 6 brought the jams. Once the band breezed through a mediocre song off its new album, Speak in Code, singer Max Collins invited the audience to take a ride with him and launched into "Open Road Song." The song — off Eve 6's 1998 self-titled debut — allowed the band to flex its grizzled power-pop muscle.
Both Eve 6 and Everclear have been playing for years, which cuts away the desperation of younger bands who play each show like it's their last and allows vets to own the stage. Collins let screaming fans in the front row strum his bass as he played it, drummer Tony Fagenson head banged like a madman throughout the entire show, and guitarist Jon Siebels soloed on the monitors like it was nothing. The band was a well-oiled machine, and by the time they played their smash hit "Inside Out," the entire crowd was shouting along and totally lost in the performance.
Everclear performed in much the same way, except with more silly stage banter from lead singer Art Alexakis. While Eve 6's Collins went on long, mumbled rants between songs, Alexakis joked constantly with the crowd and told personal anecdotes. For instance, the band played the intros to Led Zeppelin's "Rock and Roll" and Lynyrd Skynyrd's "Sweet Home Alabama" before Alexakis inevitably stopped and said, "Just kidding, there's no fucking way we're playing that song."
Alexakis kept the show very lighthearted except for a few moments. Before playing their single "Father of Mine," Alexakis informed the crowd that he had just gotten a friend request from his estranged father and remarked how weird it was to block him on Facebook. Even though it was an easygoing set, the lyrical content in the songs still kept it heartfelt.
Everclear churned through each one of their grunge-tinged pop hits and kept the rhythm going throughout. Even though the songs were dropped to a lower key so Alexakis could hit the notes, the songs still maintained their original intensity. The '90s may have been two decades ago, but these bands certainly aren't getting rusty.
Photos – Everclear at 4th and B
Photos – Eve 6 at 4th and B