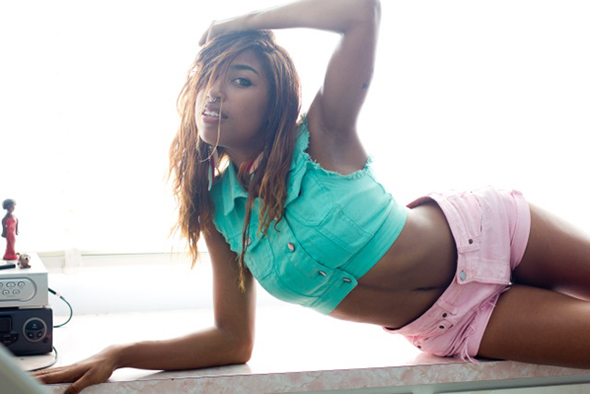 Here at Owl and Bear, we like to think we do a decent job covering San Diego music. But if there's one thing the local scene is short on, it's good old-fashioned nudity. That's why we're happy to step outside the box and tell you about an event that's sure to get your pulse pounding in a way no rock show can.
On March 21, D.I.Y. erotica site SuicideGirls will dispatch an army of some of their loveliest ladies to San Diego to promote the new photo collection Hard Girls, Soft Light. The festivities start at 7pm at Clairemont bookstore Mysterious Galaxy where a bevy of alt beauties will be on hand to sign copies of the 204-page book. The first 25 people who get their copy of Hard Girls, Soft Light signed will also receive a free yearlong membership to SuicideGirls.com.
Then at 9pm, head on down to Bar Pink for the official after party. Various models will be on hand to schmooze with fans, and bartenders will serve up some special SG-inspired cocktails.
In anticipation of the book signing and after party, we asked some SuicideGirls to talk about the things that inspire them. You can read the first Poetic Memory in our special SG-themed series courtesy of the lovely Milloux Suicide below.
NOTE: This is the first in a three-part series of SuicideGirls-themed Poetic Memories. Check back later today for parts two and three!
Poetic Memory: Milloux Suicide
Music: I work in the music industry and play in a band, so music is a huge influence on me. I spend more than half of my days completely surrounded by it; whether I'm listening to it, playing it, or going to a show. My favorite band is Murder By Death and they have been forever. I'd definitely say their elaborate stories and sound has changed my view on music and they way I perceive the world.
My dog: This year will be the eighth year me and my little dog, Sioux, have been partners in crime. He senses when I need a little company and never fails to come through. It may seem strange that my dog has influenced my life, but he has taught me the feeling of unconditional love.
Children's television: Though I'm a big old adult, children television never ceases to entertain and inspire me. The seemingly endless possibilities of the creative world of children's television keeps me ever imaginative in my art, music, and life. I'm also a huge fan of animation, so the always innovative nature of it furthers my obsession.
Dreams: I have crazy dreams (which must be from all of the children's television I watch) and though I don't believe that they're foreshadowing anything in my life, they sort of change how I do things day to day. They open up new possibilities that I never thought of before! I think our own minds are the best influences on our lives!
Tumblr: When I'm short on inspiration, the never-ending world of Tumblr definitely opens up the doors for me! You can find just about anything that you are looking for, and stumble upon things you would never imagine finding. There is all types of photography, stories, music, and memes that definitely inspire or scare me. I like that!
SuicideGirls: Of course SG is a huuuge influence on my life. If it weren't for SG, I don't think I would be doing a lot of what I'm doing today. I get to travel, shoot photos and make new friends all because of the site. Also, a newfound confidence has been obtained, and I owe a lot of it to the wonderful world of Suicide Girls.
Traveling: When Los Angeles gets stale, I pick up and check out a new place for a weekend or so. This always opens up my eyes to new music scenes and lifestlyles of places that differ from LA. I'm also lucky that I nearly always have a place to stay because Suicide Girls and members are everywhere, and always offer me a place to couch surf.
The mountains: The mountains are my favorite place to go and escape the city. I clear my mind and take in the scenery. I like to spend hours taking close up photos on textures and colors which later always come to play when I'm looking for a background photo or just some inspiration. 🙂
Video games: I spend way too much time playing video games, and I'm not sure if it's for the better (because my wallet drains quick) but either way, it makes me happy to waste away on the couch for days in the endless worlds of RPGs and I'd say that's a good influence on my life..but maybe not my career
Comics: Another thing I spend a lot of time on is reading comics for a similar reason why I love children television. In comics, I feel like the creative freedom of the creature is pretty vast, which I appreciate. Unrestricted art is more influential than anything to me.