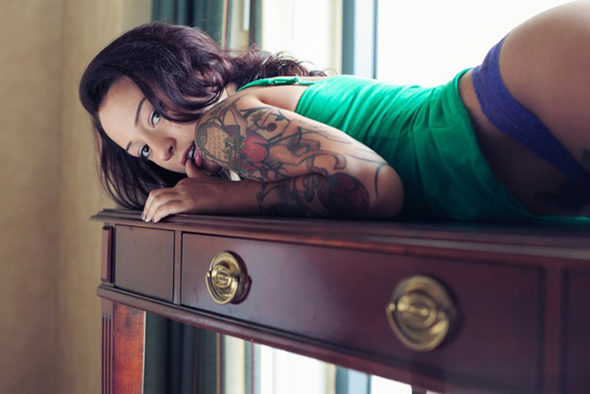 At Owl and Bear, we love shining a spotlight on one of life's finest things: music. And though music may be the proverbial soundtrack to our lives, nothing puts a song in our hearts the way a beautiful, tattooed woman does. Alt-erotica site SuicideGirls shares our appreciation, which is why they're releasing Hard Girls, Soft Light, a lovingly photographed and pristinely printed collection of some of some of the site's most gorgeous ladies.
You can pick up the 204-page book at Mysterious Galaxy on March 21 at 7pm, when a group of SuicideGirls will be on hand to sign your copy. The first 25 people to get Hard Girls, Soft Light autographed will also receive a free yearlong membership to SuicideGirls.com. Then at 9pm, hang out with the models at Bar Pink during the official after party which will feature a mysterious, SG-themed cocktail.
One of the site's many beautiful women is Brewin Suicide. We asked Brewin about the things that inspire her, and you can read her Poetic Memory below.
NOTE: This is the second in a three-part series of SuicideGirls Poetic Memories. Read part one here and check back for part three later today.
Poetic Memory: Brewin Suicide
1. Boston: Boston is the highest on my list of influences. It's the city where I feel I started to come into my own. Everything from the fun jobs I worked, to the amazing people who inspired me along the way, to the fact there are so many different subcultures nestled in each part of the city. It's eye opening and I can say I wouldn't be who I am without it.
2. The ocean: The ocean, as cheesy as that sounds, tough cookies. I puts me in my place when I'm feeling inflated and it inspires me when I'm feeling deflated. I've lived within a mile or two of the ocean my entire life (until now) and it's that convenience and time I spent there that has given me a lot of perspective and calm.
3. My cats: My cats, meaning the one that's alive and the one that died a few years ago. They're so kick ass. They've given me responsibility and cuddles along the way.
4. Design: Design influences me in a career aspect, furniture design more than anything. I'm the biggest nerd when it comes to stuff that fills and creates environments, it's kind of a big deal to me. If I feel a coffee table that is crazy out of my price range will bring the right vibe to my living space, who needs to eat that week anyway?!
5.Tattoos: Tattoos, obvious? Not only having tattoos but the actual art of tattooing and all the creativity around it. I spend my free time watching these processes. I still find that, even though it is very "mainstream" now, it's the most unique way one can influence the initial impression of your self on a daily basis.
6. Wood: Wood, lumber, timber, whichever you want to refer to it. Again going to back to me being a super dork, I love all the different creative process you can do with it. My favorite classes in college were my wood-working ones such as joinery. I like how you have to work in unison with it and it can't be forced in any way in which it wasn't intended to be.
7. The weather: I moved to California because of the weather, sun, warmth, and energy.
8. Quality: Turn of the century and mid-century quality in objects. It just inspires me to make sure that the things I create are worth the time and effort and to not cut corners because the process is tedious.
9. Food: Food influences my life because it keeps me alive. I choose selectively what I feel is right for my body and what makes me feel the best.
10. SuicideGirls: SuicideGirls, last but not least. I've made my most dearest friends through the site and can easily say the best experiences I've had in my life are a result of it.