Well, we hope you've enjoyed SuicideGirls Day here at Owl and Bear. In case you missed our previous two posts, here's what you need to know: on March 21, models from the world-famous site will descend on San Diego to promote the new photo collection Hard Girls, Soft Light. The fun starts with a book signing at Mysterious Galaxy at 7pm, followed by a Bar Pink after party complete with SuicideGirls cocktails starting at 9pm.
In honor of the event, we asked some SuicideGirls to tell us about the things that inspire them. Lovely ladies Milloux and Brewin each delivered thoughtful, revealing lists, and now we're capping things off with the smoldering Venom Suicide. You can read her Poetic Memory below, and don't miss your chance to hang with the SuicideGirls in person on March 21.
NOTE: This is the third entry in a three-part series of SuicideGirls Poetic Memories. Check out parts one and two here and here.
Poetic Memory: Venom Suicide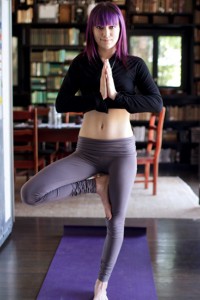 Yoga: Yoga is something that I have been doing since I was a teenager. I was lucky enough to have a friend growing up who began taking me consistently to a fantastic studio where I grew into the habit of practicing with great frequency. Yoga has changed so much of my life, from how I try to relate to others to how I model. Whenever I finish a class or even a session by myself, I feel so free and peaceful. Trying to keep that same feeling through out the rest of the day is difficult, but I find it inspiring that I know I can always choose to feel that tranquil. Other than teaching my mind how to be at peace, being able to check in with my body and know what's ailing me and what I need to do to fix it and feel balanced again is an invaluable skill I would never trade and also one that I find myself using all of the time. Being able to move my body with such specific intent effects how I walk, how I dance, and of course how I pose while being photographed. Yoga is a wonderful thing, and if you're not careful it will probably change your life.
Rock climbing: Being active is something I love, and need to do to stay sane. I discovered rock climbing, namely bouldering, about a year and a half ago and it has completely changed how I spend my free time. I go to a climbing gym almost four times a week with my best friend where we spend hours working through different problems set on the walls and just goofing off. I have also been fortunate enough to meet some highly talented friends who spend a lot of time climbing outdoors on the real rocks, to which I am always thrilled to be able accompany them in. For me, there is nothing better than being outside in the fresh air, smelling the wild sage, and completely exhausting myself. Climbing is one of those activities that involves your brain just as much as it does you physical self (I call it whole body chess) and that gives me he opportunity to be able to time out of all of the other things spiraling around my head and put all of my focus and attention onto solving the problems that are only right in front of me. Climbing inspires and helps me to stay strong, stay healthy, be creative in problem solving, and to acknowledge and be proud of myself when I progress, and I absolutely love it.
Photography: I absolutely love photography. It's the one artistic expression I can consistently rely on to translate exactly what is in my brain to a tangible image. Photography reminds me how beautiful the world can be.
Nature: Nature is what makes me feel whole. I love the smell of the earth, herbal wild flowers, and fragrant brush all around when I'm out past the city and deep into the natural world. Watching little bugs dance around, following trails in the dirt all the way to the creature that made them, or just laying in the grass only hearing the birds and the wind with no competition from the sounds of traffic or people stomping around makes me truly happy.
Snakes: I love creatures. Every since I was a little girl frogs and lizards made me squeal with joy, but nothing get me more excited than snakes. The combination of the tactile sensation of their smooth scales and how their legless bodies muscle around has always kept me entranced by them. I have had a pet snake for as long as I can remember. Currently I am down to only two — my red Amazon Tree Boa and my Irian Jaya Carpet Python — and they are always right next to me when I need artistic inspiration.
Bone: Bones, taxidermy, wet specimens, the ability to preserve and observe after something has passed thrills me. My house is full of different animal skulls, random bones, and as many other specimens as I can collect. I love examining them, painting or drawing them, and even just having them in my home as unusual and eye-catching decoration!
Vegetarianism: My diet influences my daily life a lot. I try to eat in a very healthy manner; for me that means omitting meat and dairy from my diet. It gets challenging in a social manner, eating with friends who don't have the same dietary needs, or even going out to a new place exploring and having to be more prepared to sustain myself than some one would normally. It has its challenges but eating vegan/vegetarian makes my body feel so good that it makes it completely worth it. When I am in the kitchen, I get so excited to exercise my imagination creating meals that are just as tasty as they are whole and healthy. I love taking the time recreating all of the fattening, artery clogging, comfort dishes I loved as a kid into something that is just as delicious but also good for my body.
Crafting: There is something really neat about making things. Whether it's wood working or gardening, I love being able to create things. Using the things around me, making a headdress out of the bones laying around my house, or building a terrarium and filling it with clippings of succulents I can find. I find a lot of enjoyment in turning my ideas into physical objects.