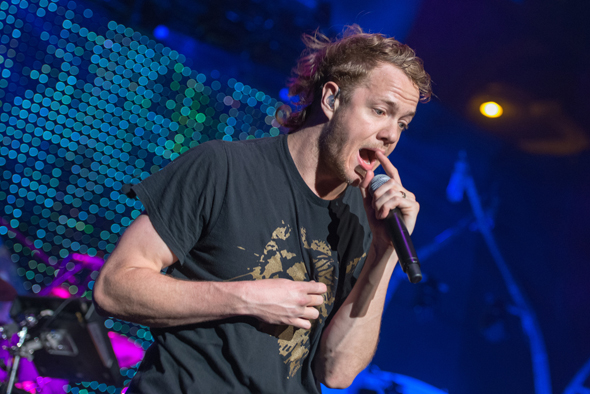 Imagine Dragons, one of of the year's most talked-about rock bands, brought their Night Visions tour to SDSU's Open Air Theater on Saturday, June 1. The band played a high-energy set filled with tracks from their 2012 album of the same name. The sold-out show packed 5000+ fans tight into the theater, with some attendees paying for standing-room-only tickets so they could listen from the top of the bowl.
Imagine Dragons are on a meteoric career rise. Only a year and a half ago, the band performed in San Diego at the intimate Loft venue at UCSD. In 2011, they played at the Casbah downtown and, in 2012, they played a successful show at House of Blues. The next time they visit San Diego, we'll probably all be lined up to see them at one of the local arenas.
Highlights of the Dragons' set included hits like "Radioactive" and "It's Time" as well as great covers like Cold War Kids' "Hang Me Up to Dry" and a soulful rendition of the Ben E. King classic "Stand By Me." An appreciative and beaming lead singer, Dan Reynolds seemed overwhelmed by the support from the San Diego crowd, who Reynolds said had been there for the band since the beginning. When they weren't playing their complicated, muti-level parts, band members Ben McKee (bass), Wayne Sermon (guitar), Dan Platzman (drums), and touring keyboardist Ryan Walker took turns banging out tribal rhythms on various drums and percussion scattered all over the stage.
Imagine Dragons put on a fantastic live show that impressively represented their recorded music. The band seems poised to play an increasingly large role in the future of rock music.
Photos – Imagine Dragons at SDSU Open Air Theatre