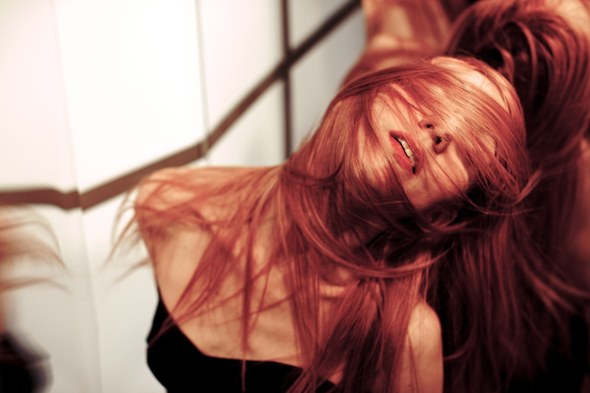 As a wise man (or was it a pony boy?) once said, nothing gold can stay. That's especially true of San Diego's most buzzworthy bands, many of which tend to leave America's Finest City™ in their rear-view at the first sign of fame. And while acts like The Soft Pack and Wavves may have skipped town as soon as the getting was good, at least The Tablets formed their band after they moved to Brooklyn.
The Tablets are the new project from Liz Godoy and Brenden Beu, whose earlier band, The Fearsome Sparrow, favored electronic ambiance. But the duo's new project sets a different course, taking '60s-era pop and stone washing it in a bath of '80s New Wave, lo-fi production, and a prevailing, provocative darkness that would feel right at home on the soundtrack to a European lesbian vampire flick.
There are shades of Ultra Orange & Emmanuelle in Godoy's hypnotic vocals on the ominous "Pray a Fight," while the lovely "Vladimir" sounds like someone kidnapped The Magnetic Fields' Claudia Gonson and made her a prisoner of Twin Peaks' Black Lodge (but, you know, in a fun way). Throughout it all, Godoy's intimate delivery pulls you close, whispering each lyric in your ear like a tantalizing secret.
Continuing in that personal vein, Godoy was kind enough to share some of her influences with us. You can read that list — which includes everything from all-female Mexican pop music to '80s TV theme songs — below, and you can buy The Tablets' self-titled debut here.
Poetic Memory: The Tablets
The Great Space Coaster: Am I the only child from the '80s who remembers this show? I didn't really watch Sesame Street much as a kid, but I watched The Great Space Coaster religiously. THAT INTRO!!
Dancing: I once built a stage in front of our house with leftover construction material from a site my dad was supervising (mostly wood boards and concrete blocks) so I could perform my choreographed version of the entire Ghostbusters soundtrack. I was a kid by the way. I danced ballet for most of my younger years and even moved to Cuba after junior high to pursue a career in it. I am that person that dances at home, in front of the mirror. Nothing gets rid of my unhappiness like busting a move does, yet I don't get out to dance much these days. I can't say that I like all forms of dance, though.
Flans: Flans were the shit. At least for tweens and teens in Mexico in the mid to late '80s. These three girls wore the coolest clothes, had the coolest moves, and sang the best songs. Every girl in school had their other two friends be Flans with them. You would see groups of three all over the school grounds during break, doing the Flans thing. We would make hair concoctions out of jello to get our bangs as high as theirs and finish them with aqua-net. Now I realize that some of the best composers of Mexico and Spain were responsible for Flans' hits. Makes sense. They're still awesome though!
Gift giving: Growing up, my family never cared much for receiving gifts on particularly celebratory dates, and to date, I still don't. But it is always important for me to give a gift, if it feels like the perfect gift. Whenever I find something that just seems like it belongs to a friend or a relative, if it's within my means, I will buy it and gift it. As a kid (a lot of kid stories) when our family moved from Tijuana to Culiacan (Mexico) I was very shy and bummed, and in October I decided I wanted to make carved oranges for my new schoolmates. They looked like mini-pumpkins and I topped them with drinking paper cones as a witch's hat. My father helped me carve out the oranges with an X-Acto knife — it made it much easier, and I thought that was brilliant. The kids at school were confused. One year, while we still lived in Tijuana, I insisted we make custom made Easter baskets for the characters at Disneyland. My mother was a very good about it, and helped me prepare the baskets, as well as carry them around in Disneyland.
The Legendary Pink Dots: I was introduced to their music when I met Brenden Beu in 1999. He's met Edward Ka-Spel a few times; I haven't. Brenden is also responsible for getting Ka-Spel's blessing for our cover of 'I Love You In Your Tragic Beauty" on The Tablets' debut. The Dots have been around for over three decades. They have never been mainstream, but their fans are forever and there is not much that they haven't done.
Mechanics (not really): If it doesn't have a computer in it, I will try to fix it. Ever since I can remember, I've enjoyed opening things up (i.e. A/C's, boom boxes), dusting parts, pegging things back into place, re-latching levers, putting it all back together and making it work again. It is really not that hard, but I don't see everyone doing it, so I talk myself up and make a gesture of triumph every time I succeed.
Breakups: I developed my own coping technique around 18. After all the crying and not getting over it, I would tell myself that this was only temporary. You're the love of his life and it is not meant to happen just now. But in five years, after "he" has matured and realized how much everyone sucks and how great you are, he will come back to you and tell you all the things you want to hear and we will be together, finally. So, being fully aware that I was only telling this crap to myself to help me feel better, somehow, it always worked. Not the getting back together part.
Strobe light: Everything looks and sounds so good under a strobe light! I can't get over it. I bought a really cheap one at Party City. It's terrible.
Stereolab and Yo La Tengo: When I first moved to San Diego from Mexico, before The Fearsome Sparrow and before Tetsunori, I was in a band that never played any shows, for two years. I was pissed, but I can't say I didn't learn a lot, and the guitarist introduced me to many great local San Diego bands and a bunch of other great stuff! These two are not from San Diego, but they really struck a chord and I have been a loyal fan ever since.
Kafka's Metamorphosis: I never read the ending. I know exactly what happens, but I just don't want to read it. My sister says it would probably be healthier for me if I did, so I could move on with my life.