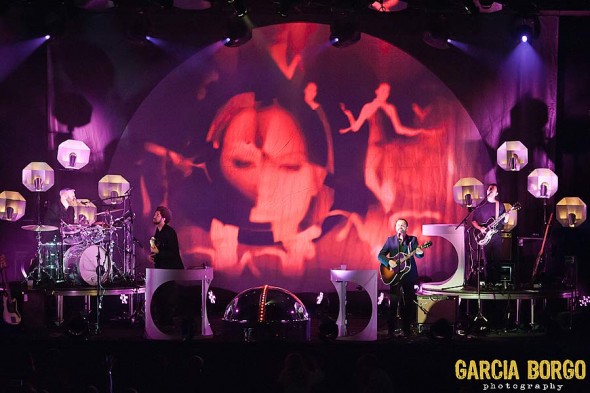 Indie supergroup Broken Bells brought the usually tame Humphreys crowd to its feet — and even got them dancing.
At the sold-out show, the band — comprised of Danger Mouse (a.k.a. Brian Burton) and Shins frontman James Mercer, along with two multi-instrumentalists — put on a strong set that included favorites like "Holding on For Life" and "The Changing Lights."
Messrs Mercer and Mouse kicked off their set with a mix of songs from Broken Bells' latest release, After the Disco, including "Perfect World," "The Ghost Inside," and the album's title song.
Mercer (who happens to look very handsome in a suit and can even dance) showcased his vocal range on "After the Disco." With the song's perfect '70s feel, you can't help but think, "Is this Andy Gibb singing?"
At one point, Mercer said, "Thank you. We are happy to be here in San Diego." When an audience member shouted back, "The whale's vagina," Mercer laughed and responded, "Thank you for that, sir."
Au Revoir Simone supported Broken Bells at Humphreys and joined them during the main event for "Medicine" and "The Changing Lights."
Broken Bells at Humphreys

Au Revoir Simone at Humphreys