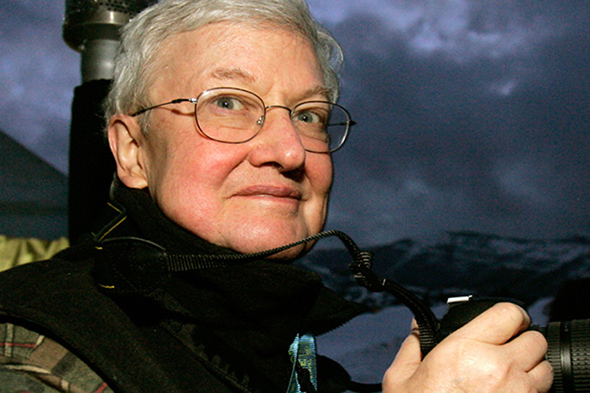 Roger Ebert loved movies. He spent most of his life watching them, writing about them, and passionately debating them. Over the decades, he played an unrivaled role in bringing film criticism to the masses (or "vulgarizing" it, according to some of his stuffier peers). It's only fitting that now, a little over a year since his death, the final word on his life should take the form of a movie.
Life Itself, the new documentary from director Steve James and executive producer Martin Scorsese, offers a clear-eyed look at the man who became the world's most recognized and beloved film critic. From Ebert's humble beginnings in Urbana, Illinois and his rapid ascent at the Chicago Sun-Times to his years as co-host of the popular Siskel & Ebert and his latter-day battles with thyroid cancer, Life Itself paints a picture not just of one man, but of many men.
There's Ebert the Pulitzer Prize winner and Ebert the screenwriter of the trashy Beyond the Valley of the Dolls. There's the Ebert who stole a cab from an eight-months-pregnant colleague and the Ebert who showed unshakable optimism in the face of his declining health. There's the Ebert who shared a toxic rivalry with his costar Gene Siskel and the Ebert who would continue to memorialize him years after his 1999 death. There's Ebert the populist, Ebert the egotist, Ebert the alcoholic, Ebert the caring family man. All sides of the lovable curmudgeon are on display, presented plainly and without judgment.
"To not present the full reality would be a lapse," Ebert writes to James at one point. "I wouldn't be associated with that film."
James honors that wish, depicting both the highs and lows of Ebert's life, and in doing so also honors the legendary critic. He coaxes fascinating stories from his interview subjects, such as when an airplane prank by Siskel humiliated Ebert or the time a Leonard Cohen song literally saved Ebert's life. Filmmakers like Martin Scorsese, Werner Herzog, and more are also on hand to discuss the profound effects that Ebert's reviews and friendship had on them.
Life Itself sets an easy and engaging pace, flitting to various periods in Ebert's life but always returning to what would end up being his final months. The striking thing about those scenes is that they could be about any family dealing with a terminal illness. There's the repeated setbacks, the flares of temper and frustration, and the quiet sweetness of the love that holds people together through moments of unthinkable hardship. And through it all, there's Ebert: his voice and jaw gone but an unmistakable twinkle gleaming in his eye. Bolstered by the support of his unwavering wife Chaz, his determination to fend off his cancer — and his ultimate decision to surrender to it — result in moments as resonant and touching as any Hollywood drama Ebert ever reviewed.
But James' steady hand never lets Life Itself descend into melodrama. The jazz-loving Ebert would surely approve of the film's bouncy score, which keeps things light and, in the scene where Chaz recounts her husband's passing, adds a layer of unexpected beauty. It's even hard to imagine Ebert objecting to his friends' colorful descriptions of him being "a nice guy, but not that nice" or unanimously assuming he wrote Beyond the Valley of the Dolls "for the boobs." Thanks to James' warts-and-all approach and his breezy but unflashy direction, Life Itself is a fitting eulogy to one of cinema's giants. If only Roger Ebert could see it.
Life Itself opens on Friday, July 4 at Landmark's Hillcrest Cinemas.